Perfect equipment for your cardio training
Floor protection mats, heart rate monitors, tablet holders or vario cranks perfectly complement your cardio training in your own four walls. With the right fitness accessories for your training equipment, you can design your cardio training in the home gym individually according to your plans and goals. Challenge your body with weight cuffs and push yourself to your limits. This is how you effectively burn calories and increase your endurance. Discover new fitness accessories for your cardio training at home.

Fitness accessories for endurance training
Whether floor protection mats, heart rate monitors, weight cuffs or vario cranks - the right fitness accessories can make your endurance training safer, more effective or more varied.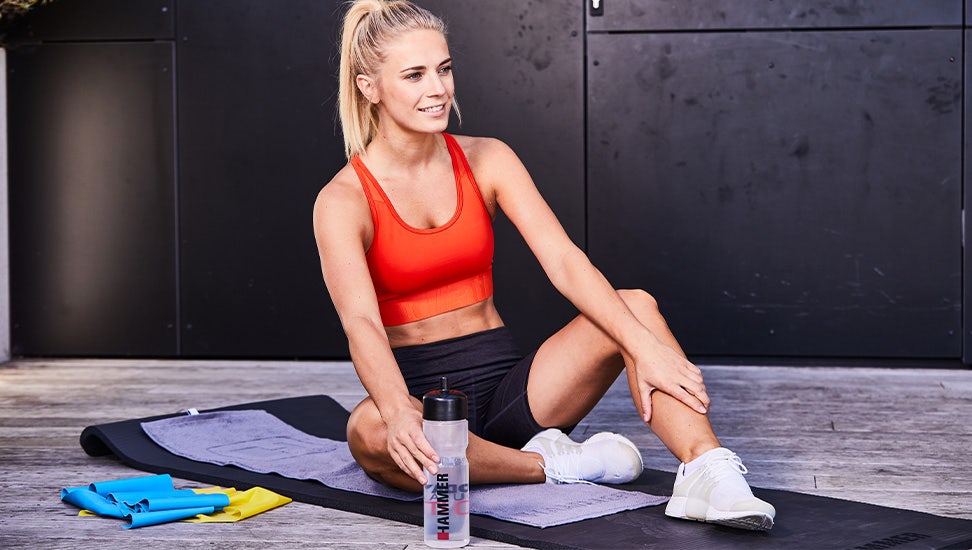 Why do I need a floor protection mat?
A floor protection mat provides a safe base for your fitness equipment. It protects carpets, parquet or stone floors, ensures a non-slip workout and also contributes to noise reduction. Floor protection mats are available in different versions and sizes. As a puzzle mat, like our FINNLO by HAMMER floor protection mat puzzle mat, it can be flexibly put together and can therefore also cover larger areas.
You can find floor protection mats made of rubber, in walnut look or wood look in the following sizes:
70 x 30 cm
70 x 120 cm
120 x 60 cm
160 x 85 cm
185 x 120 cm
200 x 100 cm
240 x 100 cm
For particularly heavy endurance equipment we recommend our HAMMER professional floor protection mat:
Thickness of 2.5 cm for perfect noise and vibration damping
Durable material (EVA)
6-piece set-up size (L x W x H): 156 x 104 x 2.5 cm
Set-up size 2-piece (L x W x H): 104 x 52 x 2.5 cm
Why should I train with a chest strap heart rate monitor?
As the hand pulse sensors are only an orientation aid, a chest strap is a suitable accessory. With the help of a chest strap heart rate monitor, the pulse is visible and controllable on any fitness equipment with an integrated pulse receiver. The small fitness accessory is the ideal training companion for beginners and advanced exercisers to get to know their personal stress and performance level better and to individually adapt their endurance training.
Our chest strap heart rate monitors offer:
Long range
Accurate heart rate monitoring
Uncoded data transmission
Individually adjustable size
How heavy are weight cuffs?
Weight cuffs intensify your endurance training. You can easily attach them to your wrists or ankles with velcro. Cuffs filled with sand, such as our HAMMER weight cuffs, adapt to every joint shape.
Available from us in 0.5 kg or 0.75 kg.
Product details:
Fits wrists and ankles
Filled with sand
Neoprene and lycra material for maximum wearing comfort
What are vario cranks?
Vario cranks are orthopaedic aids for training on an ergometer or exercise bike. They are the ideal training accessory after injuries, operations or joint changes. Due to an adjustable crank radius, they enable crank length adjustment in case of reduced flexion and extension of knee joints.
Our Variocranks are:
Flexible adjustability from 30 - 170 mm
Suitable for Varon and Exum models
Also suitable for continuous use
Training with the Variocrank can lead to the following results:
Strengthening of the leg muscles
Promotion of joint mobilisation
Positive effects on the cardiovascular system
Expert advice
Regular endurance training not only promotes performance, but also stimulates your fat metabolism, strengthens your immune system and thus ensures more relaxation and friends in everyday life.
If you have any questions about endurance training with fitness accessories, just drop by one of our HAMMER stores or call one of our fitness experts for advice.