Basic equipment for your muscle training at home
For a varied strength training with free weights, a weight bench or training bench is simply a must. It helps you perform movements correctly and work different muscle groups at the same time. A weight bench is space-saving and can be used as a flat bench or incline bench. The weight bench in combination with a barbell or dumbbell set allows you to do numerous exercises. Discover your perfect training partner for intensive and extensive strength training at home.
Buy weight bench
If you want to buy a weight bench, you will often be confronted with a wide range of different features. To help you make a good buying decision, we'll tell you all about the different models, exercise options and quality features.
What is a weight bench?
A weight bench is a classic piece of strength training equipment that is usually used in combination with dumbbells , a barbell and weights for training various muscle groups. The weight bench supports you in maintaining a stable and ergonomic training position during strength training. With a training bench, a set of dumbbells, a barbell and weights, you already have countless exercises for effective weight training.
Although there are many exercise possibilities with a weight bench depending on the model, the device is mainly known and popular for the bench press with the barbell. These and many other dumbbell exercises are particularly effective for building muscles and are especially interesting for home use due to the space-saving dimensions and flexible application options. To enable an even wider range of exercises and to train all muscle groups in an even more differentiated way, some weight benches also have additional training options.
HAMMER weight benches convince in quality, functionality and price. Order your weight bench easily and risk-free, with free shipping to your home. If you don't like the weight bench, you can return it to us free of charge within 14 days.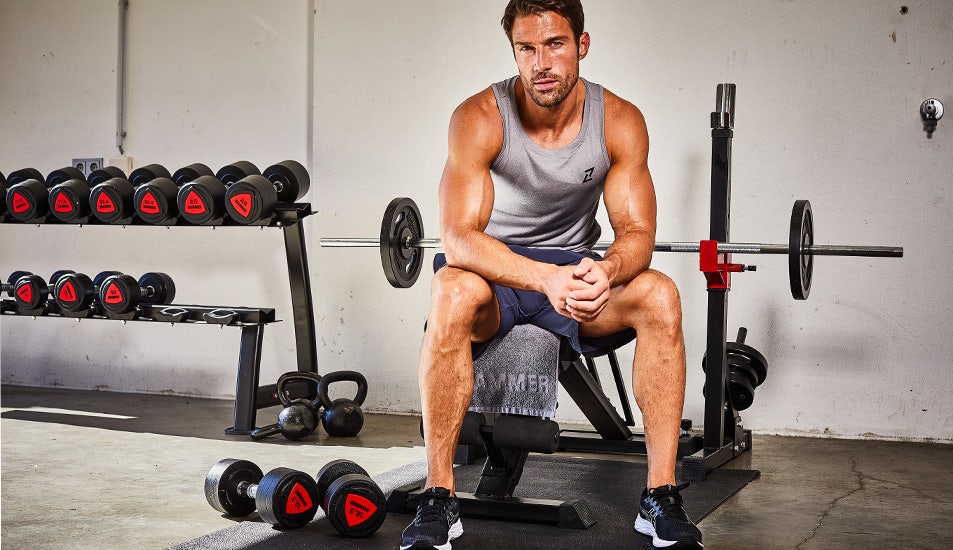 What is a weight bench with weights?
A weight bench with weights is one of the most popular and versatile pieces of exercise equipment for anyone looking to increase their fitness at home or in the gym. This particular type of workout bench allows for a wide range of exercises that help build muscle mass, increase muscle strength and improve overall fitness.
What is the difference between a flat bench and an incline bench?
The classic among the training benches is definitely the flat bench, with which you can already safely perform many exercises. However, since the change of the training angle makes a relevant difference in strength training for many exercises, the incline or negative bench is a useful addition and offers better ergonomics and training position depending on body dimensions. An incline bench allows for a more upright position, while a negative bench allows for a lower head position. By adjusting the angle, you can differentiate the muscle response, e.g. during the bench press, and benefit from an individually optimal body position during dumbbell training. Furthermore, an inclined backrest setting can also emphasise individual muscle fibres more strongly during seated biceps curls, whereas a negative bench with intensive crunches also challenges your abdominal muscles. When buying a weight bench, make sure that the backrest can be adjusted. If this is the case, the weight bench is often called an incline bench, although flat bench and negative settings are also possible.
Difference between weight bench and training bench: What you need to know
Compared to a weight bench, an exercise bench is more versatile and less specialised for pure strength training. It provides a stable surface for a wide range of exercises, both with and without weights. You can use it for push-ups, step-ups, abdominal exercises and many other exercises. Some models even come with built-in pulleys or other features that give you additional workout options.
So what's the right choice for you?
If you want to focus on strength training with free weights, a weight bench would be ideal. However, if you are looking for more versatility and perhaps don't always want to work with weights, a workout bench might be a better fit for your goals. Remember that whatever you choose, the quality and stability of the bench is crucial. After all, you want to train safely and effectively.
What should you look for when buying a weight bench?
Regardless of the design, a weight bench should meet basic fitness equipment requirements such as high safety and stability. A stable construction made of high-quality materials is an absolute must for weight training. Please note the permissible total load that may act on the device, which is calculated from your body weight plus the training weight you use. HAMMER training benches can bear a minimum load of 135 kg.
Total load barbell and bracket
Furthermore, a total load is also specified for the barbell holder and the barbell itself, which you should definitely take into account. Weight benches for advanced users, such as the Bermuda XT Pro , also offer features such as holding bars for the weights and locks for additional safety during strength training.
Adjustment of back cushion and dumbbell rack
For a wide range of exercises and variable training positions, the adjustment of the backrest cushion is necessary. Therefore, it is recommended to pay attention to a tiltable backrest and a smooth adjustment mechanism. If you are tall or have long arms, you should also pay attention to an ergonomic training position and the possibility of adjusting the dumbbell rack. Devices such as the FINNLO incline bench and LH station set allow you to adjust the training angle and the height of the rack as well as the width of the barbell rack and offer even more room for individual training design.
Areas of application and fitness goals
Of course, you should also choose your weight bench according to your personal use and fitness goals. For example, if you are just starting strength training, a weight bench from the FT series and a dumbbell set is a good choice, while advanced athletes will appreciate the complementary functions of the Bermuda XT series for strength training all muscle groups.
Depending on which equipment your home gym already has, the right incline bench can be chosen. If you already train with a barbell, your weight bench should also have a rack for it. If, on the other hand, you already have a , a weight bench without a rack is more suitable. Also consider the space available and the dimensions of the respective bench so that you always have enough space for your home workouts. If space is limited, we recommend the Force 2.0 multifunctional bench, for example, which can be stored fully foldable.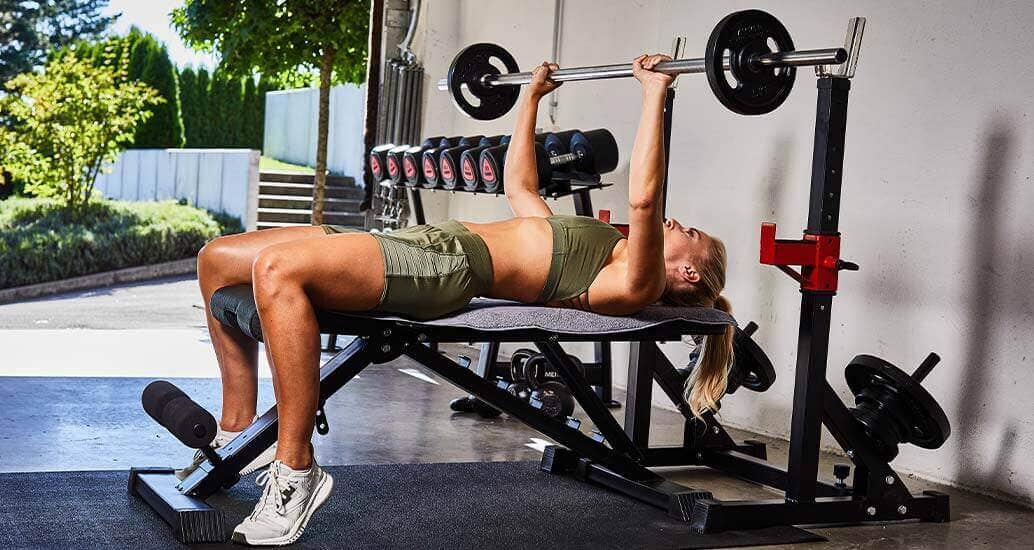 Should I buy a weight bench with weights and barbell?
To complement your training bench, we recommend a dumbbell set such as the 10 kg iron dumbbell set to make your strength training at home a success. If your incline bench has a barbell holder or you already have a dumbbell rack, a barbell with weights is of course also useful for a comprehensive workout.
If you want to start training immediately after buying a weight bench, it's best to go for the included! With the included weights, you can perform exercises with dumbbells and barbells as well as typical leg exercises and butterflies that train all muscle groups.
The advantages of strength training with the weight bench
The advantage of strength training with a weight bench and weights is that you can upgrade your home gym according to your training progress. By using free weights and bars, additional weight plates can be added to provide a lasting training stimulus. In this case, the separate weight plate stand by FINNLO is often recommended for a safe and tidy home gym. When buying the weights separately, make sure that the hole diameter corresponds to the diameter of your dumbbell bars. For additional training comfort and safety, training gloves and a floor protection mat are useful additions to the weight bench.
What exercises are possible with the weight bench?
With a classic flat bench with weights, it is already possible to train all muscle groups. Train your chest muscles with bench presses and flyes and your back with dumbbell rowing. Furthermore, seated shoulder presses, biceps curls, hip thrusts, split squats, bench dips and triceps presses are highly effective exercises that you can perform with a weight bench. See this article for more workout examples to train your upper arms. In combination with other equipment such as a cable pulley machine you can benefit from even more exercise variations.
Thanks to the variably adjustable backrest of the HAMMER weight benches, you can perform variations such as incline and negative bench presses, incline bench curls, French press, reverse flies, crunches on the incline bench and flies at different joint angles to achieve even more defined muscles.
Models with a rack for a barbell also allow bench presses and shoulder presses with the barbell in different angles and grip widths, which is especially appreciated by advanced users during their barbell training. In combination with a dumbbell rack, your bench can also be used for highly effective box squats.
Professional weight benches like the Bermuda series also offer you more exercise options for your strength training and integrate typical gym exercises like butterflys, lat pull-downs and a leg module into a weight bench. This allows you to train all muscle groups very effectively.
Popular exercises: Which workouts suit the adjustable weight bench?
With an adjustable weight bench you can generally perform all known dumbbell exercises. Depending on your individual training preferences, you can still consider some points. For example, your training bench should be able to tolerate heavy weights for intensive bodybuilding or weight training. For example, the FT2 weight bench with a maximum load of 450 kg is ideal for this.
If you also want to use many different exercises within a workout or even organise them as circuit training, a smooth and uncomplicated adjustment of the back pad is especially important. In addition to classic dumbbell training, a training bench is also a useful addition for bodyweight exercises. For example, you can place your hands or feet on the bench for different variations of planks and push-ups or effectively build muscles with bench dips or split squats.
How much weight should you start training with on a weight bench?
The training intensity that is optimal for you depends on your personal training condition. Beginners should generally start with weights that can be moved 15-25 times with clean technique in the respective exercise and thus benefit from training that is particularly easy on the joints. Therefore, heavy weights are not necessary, especially at the beginning of your training career. A weight bench with dumbbell set or a combination of incline bench, barbell and weights are therefore ideal for beginners.
Advanced and professional users can reduce the number of repetitions per set in favour of heavier weights as their training progresses and thus improve other strength abilities such as maximum strength or explosive power. For this purpose, the dumbbell and barbell systems can be supplemented with additional weights.
How do I care for my weight bench?
After buying a weight bench, you can immediately start building muscles at home. Due to the high-quality materials and mechanics, the training benches are generally maintenance-free and will give you long-lasting training pleasure. For optimal quality maintenance, place a towel underneath when training and clean the bench with a damp cloth after the workout.
Where can I test a weight bench?
Would you like to try out a weight bench before buying? We look forward to your visit to one of our HAMMER stores and will be happy to advise you on your decision so that you are guaranteed to be satisfied!
The HAMMER expert telephone
Our team of experts will also be happy to advise you in detail on the phone. Our fitness trainers are experts in all matters relating to strength and endurance training, fitness and nutrition.
Call us: HAMMER expert phone: 0720 303 979 979 (Mo - Sa 9am - 7pm). We will also be happy to call you back!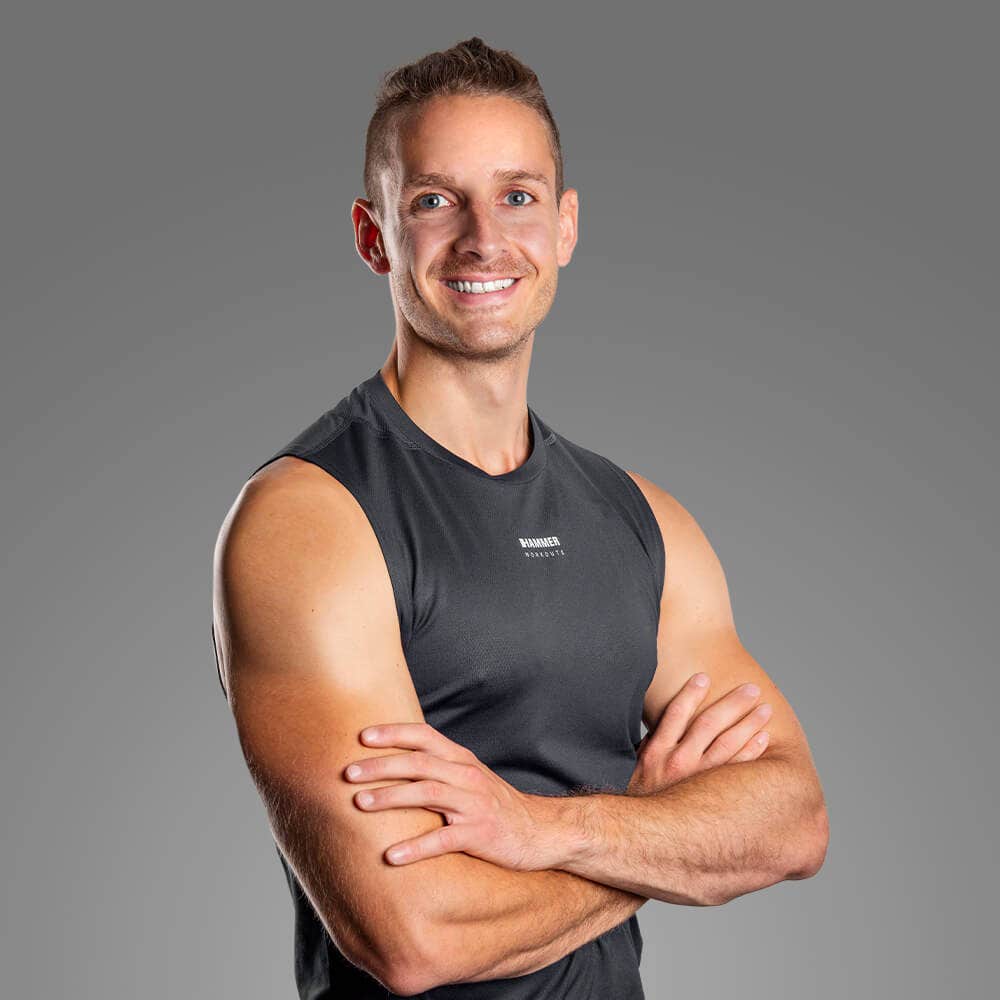 Alexander Seifried
Personal Trainer, B. Sc. Nutrition Management and Dietetics, M. Sc. Clinical Sports Therapy and Sports Physiology