HAMMER Store Hamburg
Contact
Holstenstrasse 79
22767 Hamburg
Five free parking spaces are available directly in front of our HAMMER Store Hamburg.
Experience our best products live
We look forward to welcoming you personally to our HAMMER store. You will find a wide range of fitness equipment for your home, which you can of course test on site. Our HAMMER experts will advise you personally and individually, answer all your questions and are happy to help you before, during and after your visit.
As soon as you have chosen your perfect fitness equipment, you can take it home or have it delivered and assembled by us.
Our latest reviews
Wir haben am 16.1.23 einen ELypsentrainer finnlo fly rx im Shop in Hamburg gekauft. Die außerordentlich freundlichen und kompetenten Mitarbeiter haben uns bei dieser Entscheidung sehr geholfen und standen uns ,alle drei ,bei dieser Entscheidung zur Seite. Sie haben uns zu jeder Frage eine umfassende Antwort geben können, sodass wir uns dann für dieses Gerät entschieden haben. VIELEN DANK. Die Lieferung erfolgte schnell und komplikationslos 4 Tage später . Auch der Kundenservice sei hier erwähnt. Schnell und ohne Probleme werden Dinge geregelt. Auch hier VIELEN DANK. Wir sind begeistert und trainieren nun täglich auf unserem neu erworbenen Trainingsgerät.

Der Laden hat eine sehr gute und große Auswahl an Sportgeräten. Für jede Klasse und Ansprüche sind Modelle der einzelnen Gerät vorhanden. Alles kann ausprobiert und verglichen werden. Die Beratung ist perfekt und hilft einem sehr gut das passende Gerät auszusuchen. Einige Modelle sind am Lager direkt mitzunehmen, andere werden sehr kurzfristig nach Hause geliefert. Alles in allem kann ich den Laden sehr weiterempfehlen.

Toller Laden - Top Beratung ????
Our experts in the Hamburg store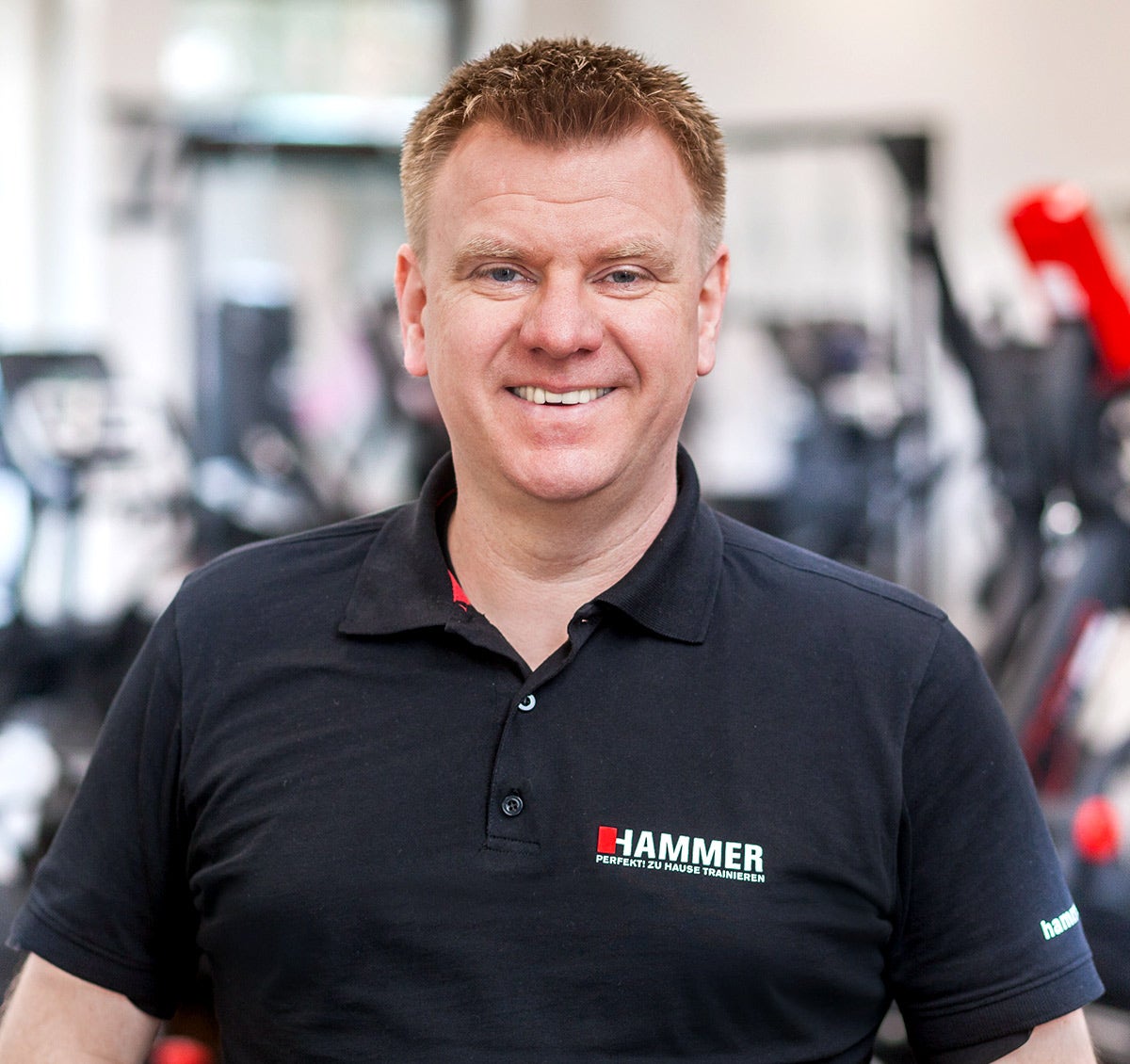 Sven Prust
Regional Manager
Benjamin Meyer
Store Manager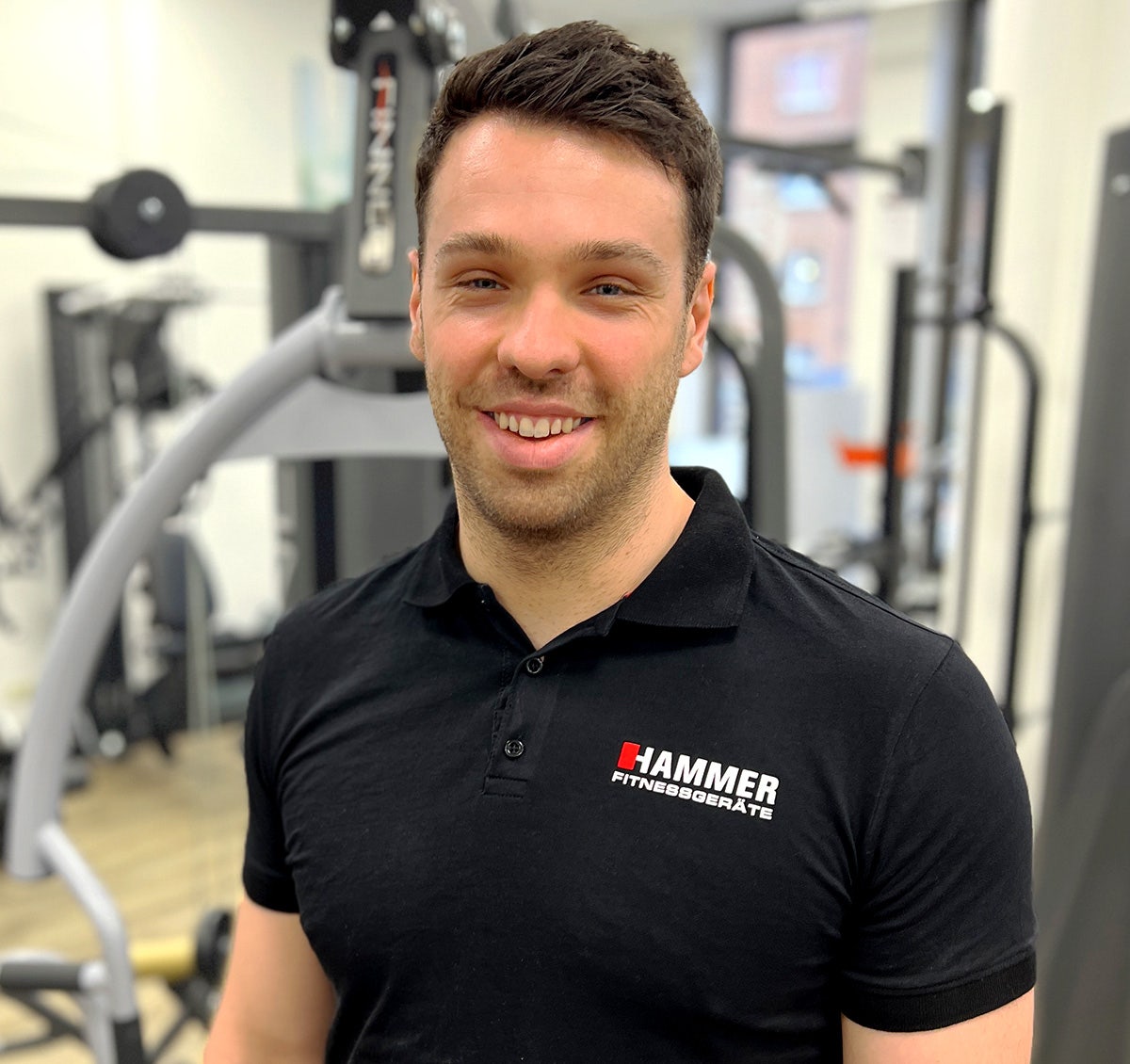 Lennart Schmidt
Sales consultant
Benjamin Meyer
Store Manager
Buy Fitness Equipment for Home Use in Hamburg
HAMMER Sport conquers the north! The HAMMER store in Hamburg offers you a wide range of fitness equipment and wellness articles directly from the manufacturer. In total, you will find around 600 different articles from the world of sport in our store. Individual advice in a pleasant atmosphere - shopping is fun!
Experience the world of home fitness at the HAMMER Store Hamburg
The HAMMER store in Hamburg has a large range of equipment, small machines and accessories for your home training on a display area of over 200 square metres. The HAMMER SPORT AG brand world is particularly diverse and offers the following products, among others:
Strength equipment such as weight stations, weight benches and dumbbells
Fitness equipment such as abdominal and back trainers
Boxing equipment
Cardio equipment such as cross trainers, treadmills and elliptical trainers, as well as rowing machines, speed bikes, ergometers, exercise bikes and indoor cycles.
From beginner's products to professional equipment, the right machine for every fitness level is available at the HAMMER Store Hamburg. And we will also find the right equipment for your fitness goal! Furthermore, we in Hamburg know that successful training also includes a sufficient regeneration phase. Recover after sport with suitable wellness articles. Our massage chairs and infrared cabins provide numerous feel-good hours at home and can also be used by other family members and friends.
Test our devices directly on site in Hamburg
At the HAMMER Store Hamburg you can get active yourself. Test every piece of equipment in detail! Whether it's a weight station, rowing machine or treadmill - you have a wide selection to choose from for a test workout. Our team in Hamburg is always there to support you with tips and explain the optimal use of the equipment. In addition, the team in Hamburg will optimally adjust the equipment of your choice so that you can train in a posture-appropriate and ergonomic way.
Buy fitness equipment for home use in Hamburg
We are also very happy to advise companies that want to invest in the health of their employees. Together we work out possibilities for a healthy working atmosphere. In this way, space in the company is used optimally. If desired, also directly on site. Our team of specialists will be happy to help!
Payment methods
In our HAMMER Store Hamburg you can pay as follows:
Cash
EC card
Visa
Mastercard
American Express
Santander hire purchase
in individual cases a bank transfer of the invoice amount is possible
Get active now and buy fitness equipment in Hamburg
Have you redefined your priorities and would like to integrate sport into your life? Then we at the HAMMER store in Hamburg look forward to supporting you in this decision with advice and action in our branch at Holstenstrasse 79. On weekdays, we are there for you between 10:00 and 20:00. On Saturday, the store is open from 10:00 to 19:00. Stop by and find exactly the equipment that suits you!