Address Holstenstrasse 79
22767 Hamburg
Experience our best products live
We look forward to welcoming you personally to our HAMMER store. Here you will find a wide range of fitness equipment for your home, which you can of course test on site. Our HAMMER experts will advise you personally and individually, answer all your questions and are happy to help you before, during and after your visit.
Once you have chosen your perfect piece of fitness equipment, you can take it home with you or have it delivered and assembled by us.
Expierences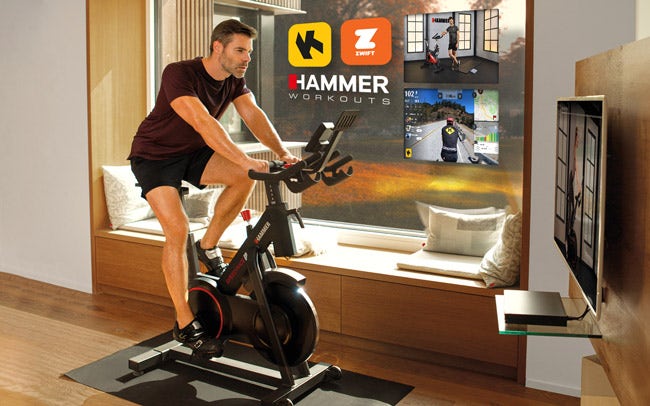 Test training apps
Experience the wide range of our digital offer for free in your local store. Train live tracks with the Kinomap training app and Zwift on the Crosstrainer , Speedbike , Ergometer or Treadmill or let our experienced coaches inspire you with HAMMER Workouts and really power you up.
Discover our digital training apps like Kinomapp, Zwift & HAMMER Workouts for free in your store now.
Customer reviews
Our latest reviews
Super nettes und hilfsbereites Personal. Sehr dankbar über die Freundlichkeit.

Ganz tolle fachgerechte Beratung

Ich war nach guten 15 Jahren mit einer Kettler Kraftstation auf der Suche nach einer neuen. Die Beratung von Hammer / Hr. Schmidt war sehr gut. Das Gerät Inspire M2: Nach einem ersten Test der Autark, die mir qualitativ nicht gut gefallen hat, kam die Inspire M2 ins Spiel. Ich konnte das Gerät vor Ort umfangreich testen und Hr. Schmidt konnte alle Funktionalitäten erklären. Die M2 hat mich qualitativ sehr überzeugt, leise Seilzüge, umfangreiche Übungen möglich, das Gewicht ist ausreichend bzw. kann aufgestockt werden und vor allem sind bei den Übungen keine "Lücken", d.h. die Kraftübertragung ist direkt da. Das Angebot: Herr Schmidt hat ein gutes Paket mit der M2, einer Unterlegmatte (200x100cm) und einem Trizepsseil geschnürt. Preis-Leistung hat aus meiner Sicht sehr gut gepasst. Die Lieferung: Das Gerät kam in mehreren Kartons und gut verpackt auf einer Palette (200x85 cm). Da die Lieferung nur bis Bordsteinkante erfolgte, haben wir die Kartons abgepackt und einzeln in die Wohnung transportiert. Eine Sackkarre / Rollbretter sind hilfreich, zudem empfehle ich zwei Personen, geht aber auch alleine. Die Entsorgung der Palette ist etwas mühsam, da sie sehr sperrig ist, aber Hauptsache das Gerät kommt heil an. Der Aufbau: Der Aufbau hat gut funktioniert (ca. 5 Stunden). Mit Hilfe der Anleitung und dem Aufbauvideo ist alles gut erklärt. Auch hier empfiehlt sich der Aufbau mit zwei Personen, ist aber auch alleine möglich. Schaden am Seilzug: Nach einem Tag ist leider aufgefallen, dass die Isolierung eines Seils defekt war. Auch hier war der Service von Hammer einwandfrei und ich habe zeitnah ein neues Seil erhalten. Top! Das Trainieren: Das Pumpen macht Spaß und ich kann die M2 nur empfehlen. Rundum zufrieden :) Vielen Dank an das Hammer Team! Sportliche Grüße, Lennart
Expert Team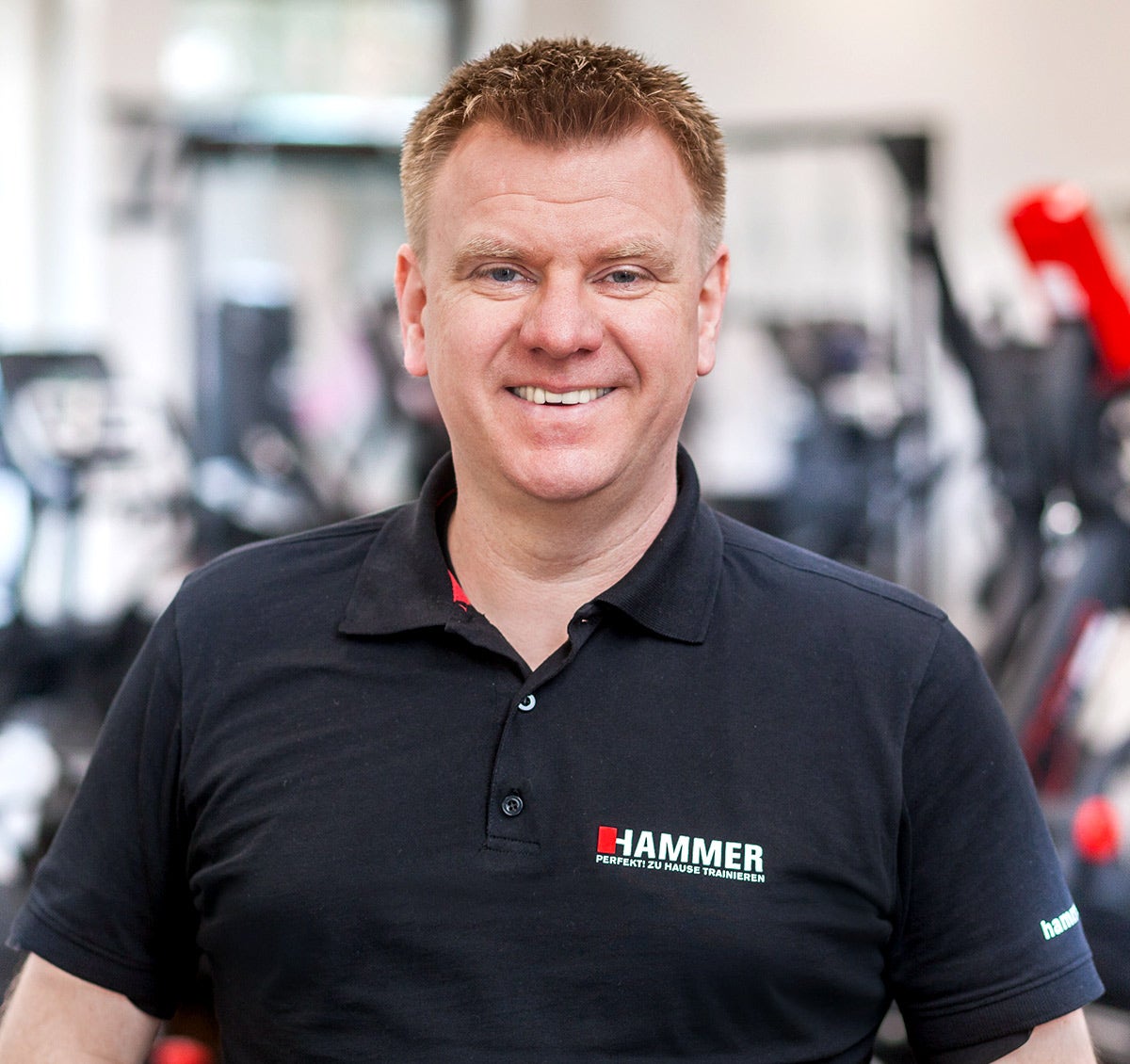 Sven Prust Regional Manager
Payment methods
Cash
EC card
Visa
Mastercard
American Express
Santander hire purchase
in individual cases a bank transfer of the invoice amount is possible
Buy Fitness Equipment for Home Use in Hamburg
HAMMER conquers the north! The HAMMER store in Hamburg offers you a wide range of fitness equipment and wellness articles directly from the manufacturer. In total, you will find around 600 different articles from the world of sports in our store. Individual advice in a pleasant atmosphere - shopping is fun!
Experience the world of home fitness at the HAMMER Store Hamburg
The HAMMER Store in Hamburg has a large range of equipment, small machines and accessories for your home training on a display area of over 200 square metres. The HAMMER SPORT AG brand world is particularly diverse and offers the following products, among others:
Strength equipment such as
, and
Fitness equipment such as
and
Cardio equipment like
, and , and , , , and
From beginner products to professional equipment, there is a suitable piece of equipment for every fitness level available at the HAMMER Store Hamburg. And we will also find the right equipment for your fitness goal! Furthermore, we in Hamburg know that successful training also includes a sufficient regeneration phase. Recover after sport with suitable wellness articles. Our massage chairs and infrared cabins provide numerous feel-good hours at home and can also be used by other family members and friends.
Test our equipment directly on site in Hamburg
In the HAMMER Store Hamburg you can get active yourself. Test every piece of equipment in detail! Whether it's a weight station, rowing machine or treadmill - there is a wide range of equipment available for you to test. Our team in Hamburg is always there to support you with tips and explain the optimal use of the equipment. In addition, the Hamburg team will optimally adjust the equipment of your choice so that you can train in a posture-appropriate and thus ergonomic manner.
Buy fitness equipment for home use in Hamburg
We are also happy to advise companies that want to invest in the health of their employees. Together we work out possibilities for a healthy working atmosphere. In this way, space in the company can be used optimally. If desired, also directly on site. Our team of specialists will be happy to help!
Get active now and buy fitness equipment in Hamburg
Have you redefined your priorities and would now like to integrate sport as a fixed part of your life? Then we at the HAMMER Store in Hamburg look forward to supporting you in this decision in word and deed at our branch in Holstenstrasse 79. On weekdays, we are there for you between 10:00 and 19:00. On Saturday, the store is open from 10:00 to 18:00. Stop by and find exactly the equipment that suits you!
Five free parking spaces are available directly in front of our HAMMER Store Hamburg.