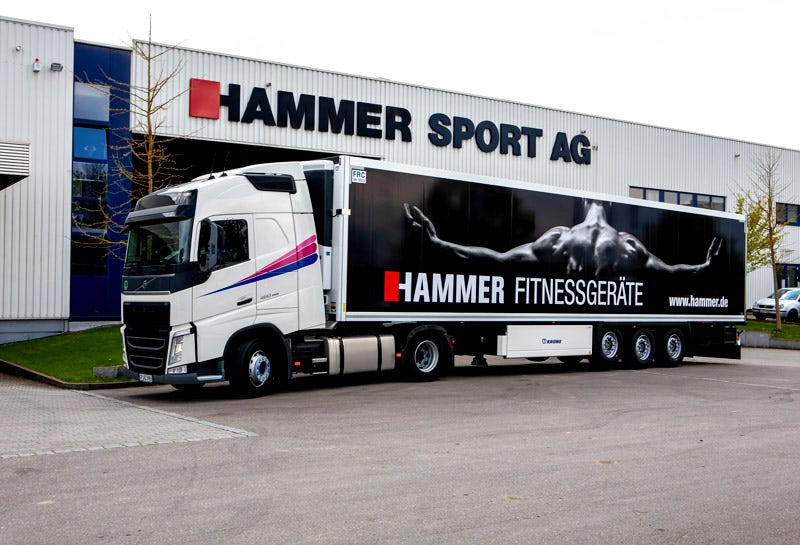 Delivery
Shipping costs
1Parcel Sercice
Free delivery from an order value of 99,- €
(20,00 € per order up to 99,- €)
Delivery by carrier
Free delivery from an order value of 499,- €
(40,00 € per order up to 499,- €)
Dumbbell bars and free weights are excluded from this rule, as they cause considerable shipping costs due to their high weight.
Dumbbells and Weights / Mixed Order Parcel Shipping & Dumbbells
Order value under 750€: 20€
For a mixed order of parcel shipping items and dumbbells and weights, shipping is free for orders over 200€.
Delivery time
We will ship your order to your delivery address immediately after we have received your payment.
We ship with GLS or a local shipping company. We work with selected shipping partners and forwarding companies. Please understand that delivery to Packstation, or P.O. Box is not possible.
Invoice and guarantee
We always enclose a delivery note and an invoice with your delivery. Please keep the invoice carefully, as it serves as proof for guarantee and/or warranty claims.
Returns and complaints
Satisfied customers are very important to us. Please contact us by e-mail or phone in case of problems, wrong or incorrect deliveries:
Phone: 0731 974 88518
Service hours: Mon-Thu: 9am-5pm, Fri: 9am-3pm
Email: info@hammer.de
In case of a return, please contact us by e-mail or phone and state your order number or your unique name. The return is free of charge! However, we would like to ask you not to send your goods to us without prior agreement, as we can plan to collect them from you at a lower cost.
Please also note §9 of our General Terms and Conditions ( AGB ).
Can I also have goods delivered to a Packstation?
No, unfortunately the goods cannot be delivered to a Packstation. Due to the size and weight of most parcels, delivery to a Packstation or PO Box is unfortunately not possible. The delivery of the ordered goods can also not be made to the place of use, but only to the curb in front of it. We ask for your understanding.
Where is my parcel?
Use the shipment information to see how far your parcel is on its way to you. You can track the delivery status of your parcel around the clock. When your parcel is handed over to the parcel service, you will receive your parcel number by e-mail. This way you can always find out about the current delivery status.
If you have any further questions, simply send us an e-mail at info@hammer.de or call us on 0731 974 88 518 (from Germany) or +49 731 974 88 518 (from Austria or Switzerland).
The shipment is missing - what now?
Has the parcel still not arrived after several days and has it not been left with your neighbours? In this case, we would like to ask you to contact our customer service so that we can check the whereabouts of the parcel for you and, if necessary, make a search request. We will then let you know whether it makes sense to order the desired item again.
To do this, send us an e-mail at info@hammer.de or call us on 0731 974 88 518 (from Germany) or +49 731 974 88 518 (from Austria or Switzerland).