Small power packs for your muscle build-up
Strength training with dumbbells and weights is fun, varied and gives you the opportunity to shape your dream body. With barbell or dumbbell sets, you have the ideal equipment for your strength training in the home gym. A variety of training options with dumbbells and free weights allow you to customise your dumbbell training according to your needs. Find the right dumbbell for your training goal, start your dumbbell training at home and strengthen your muscles with the right dumbbells and weights.

Buy dumbbells
If you decide to buy dumbbells, you should consider a few things to find the right product for you. Therefore, it is worth getting to know the different dumbbells, plates and bars before you buy them so that you can do optimal strength training at home.
What is a dumbbell?
Dumbbells are training equipment for strength training with which free exercises in particular can be performed. They combine 2 weights via a short or long bar and allow for a wide range of use in sports. Dumbbells are often used to make exercises such as squats more intense and to increase strength and muscle mass. They are particularly suitable for use in the home gym due to their small footprint and versatility. By using several dumbbells or as a plug-in system with freely selectable weight plates, you can also use dumbbells in a versatile and individual way as your training progresses.
What types of dumbbells are there?
In general, dumbbells can be differentiated both in terms of their use and their construction. Depending on your goals and the desired area of use, different systems are best suited.
Barbells
Barbells usually have the option of using a variable number of weight plates and thus regulating the intensity. They connect the weights to each other externally via a long bar. You usually train with both arms and can thus handle the highest weights. Classic barbell exercises are e.g. bench press or deadlift.
Dumbbells
With dumbbells , the weights are connected via a short handle bar, which is usually moved with one hand. The diameter of the dumbbell bar is almost always 30 mm. There are dumbbells both as a plug-in system as well as firmly connected to so-called compact dumbbells. These are available in different shapes and are optimally covered with rubber so that contact surfaces are protected during training.
Dumbbell sets
Dumbbell sets combine different weight plates with dumbbell and barbell bars to flexibly change the training weight. This allows you to train even more variedly and complete many exercise variations.
If you choose a set of barbells, dumbbells and weight plates, all bars and weight plates have a 30 mm diameter to allow for a universal combination. Dumbbell sets are especially good if you want to combine different barbell and dumbbell exercises in one workout.
Neoprene dumbbells
Neoprene dumbbells are suitable for exercises that require a light intensity. Their soft surface and ergonomic handles make them particularly comfortable to use. Therefore, use neoprene dumbbells to intensify gymnastic exercises or as running dumbbells.
Smartlock dumbbell set
To combine the variability of a dumbbell set with the simplicity of compact dumbbells, special dumbbells like the offer the best solution. Here you select the desired weights by turning the dumbbell handle and can complete numerous exercises with them. With the Smartlock dumbbell set you only need one pair of dumbbells for up to 8 weight settings. This eliminates the need to place weight plates on top of each other, saving you space and training time.
For whom is dumbbell training suitable?
Weight training is the best way to increase your strength and muscle mass. Whether you are a beginner or a fitness professional - with different dumbbells or variable weight plates for dumbbell or barbell training, you can optimally adjust the intensity of your workouts. This makes dumbbell training a form of training that is generally suitable for everyone and adapts to your performance.
What should I look for when buying dumbbells?
Since dumbbells vary in weight, size and range of use, the choice depends on your goals and training preferences.
The right dumbbell for your workout
For example, a complete set such as the 73 kg barbell and dumbbell set is particularly suitable for using variable weights for many different exercises in a small space. You can either secure the weights with twist locks or clamps and add or remove discs in a few easy steps.
If, on the other hand, you prefer high-intensity circuit training with many exercise changes in a short time, compact dumbbells are the better choice. With these dumbbells, the defined weights are permanently attached and therefore ready for immediate use.
You get an even wider range of exercises with a barbell . For barbell exercises, you will almost exclusively find bars with interchangeable weight plates in different diameters and lengths. When buying a barbell, consider the maximum load, the increased space requirement compared to dumbbells and possibly an increased need for weight plates.
A special barbell bar with plug-in weights is the SZ bar . It has a curved bar that is particularly easy on the joints, especially the arms. The SZ bar is often combined with a curl desk for intensive scott curls. The SZ bar with weights is therefore best suited for intensive arm training.
The ideal bar
Barbell bars have a hole diameter of either 30 mm or 50 mm. The diameter describes the dimensions of the disc holder on which the weight plates rest. The handle bar is slightly thinner in each case.
Dumbbells with alternating weights and compact dumbbells almost always have a 30 mm hole diameter, while both dimensions are common for barbells. When buying dumbbells, make sure that your barbell and weight plates are compatible.
Thinner bars have the advantage that they require less grip strength and are usually shorter and therefore more space-saving. They are very suitable for beginners and slightly advanced athletes and are particularly inexpensive. Secure the 30 mm bars with a twist or clamp lock.
Barbell bars with a 50 mm hole diameter are also called Olympic bars and are equipped with a ball bearing. This allows a particularly smooth barbell movement for demanding barbell exercises such as squats, deadlifts or Olympic weightlifting. Olympic bars have a very high load capacity and are elastic, which enables jerk-free power transmission even during heavy training. In addition, it is easier to attach discs when the bar diameter is large. Olympic bars almost always weigh 20 kg and are secured with a clamp or screw lock.
The best dumbbell weight for beginners and advanced users
Depending on the exercise and your level of performance, you will need different weights for your dumbbell training. Especially if you do a lot of different exercises, you should load your dumbbell appropriately each time. Make sure you have a sufficient assortment of weight plates for your exercises at the beginning.
Dumbbell sets are the perfect choice for this and offer you not only dumbbell bars but also several weight plates of different weights that you can freely combine and adapt to your training. Beginners, for example, are best served with the 10 kg dumbbell set and will find many possible combinations of exercises. If you need even more weight and exercise possibilities, the 30 kg dumbbell set or a combined barbell and dumbbell set is the best choice for you.
Dumbbells and weights with a 50 mm hole diameter are usually not sold together. However, as with the weights for the 30 mm hole diameter, you can also buy the Olympic weight plates at any time.
Disc holder
Dumbbells and barbells have a so-called plate holder on the outside next to the handle bar, onto which the plates are attached. The plate holder should have enough space for several plates so that you can put on enough weights for each exercise to adequately challenge yourself and to put on precise plate combinations.
Closure types
Spring lock
The spring lock is available for barbells with a diameter of 30 mm as well as 50 mm and is especially suitable for light weights. You can easily attach and detach the locks with a handshake. The lock is already included with the 180 cm barbell, for example.
Star-shaped screw cap
The star-shaped screw lock makes it possible to securely fasten the weights. Make sure that the barbell rod has the same diameter (usually 30 mm) and a thread. You can find these fasteners in the 20 kg dumbbell set , for example.
Star-shaped fasteners
This plastic or aluminium fastener is suitable for Olympic barbells with a diameter of 50 mm. If you frequently change the weight plates during a barbell workout, the tension locks are ideal because they can be opened with just one movement.
Screw locks for Olympic barbells
In contrast to screw locks in star shape for 30 mm dumbbells, this lock for Olympic dumbbells is not screwed onto the disc holder with a thread. Instead, the closure uses an adjustment screw to ensure a particularly strong hold while at the same time being easy to use. Screw caps are therefore suitable for dumbbell training with heavy weights.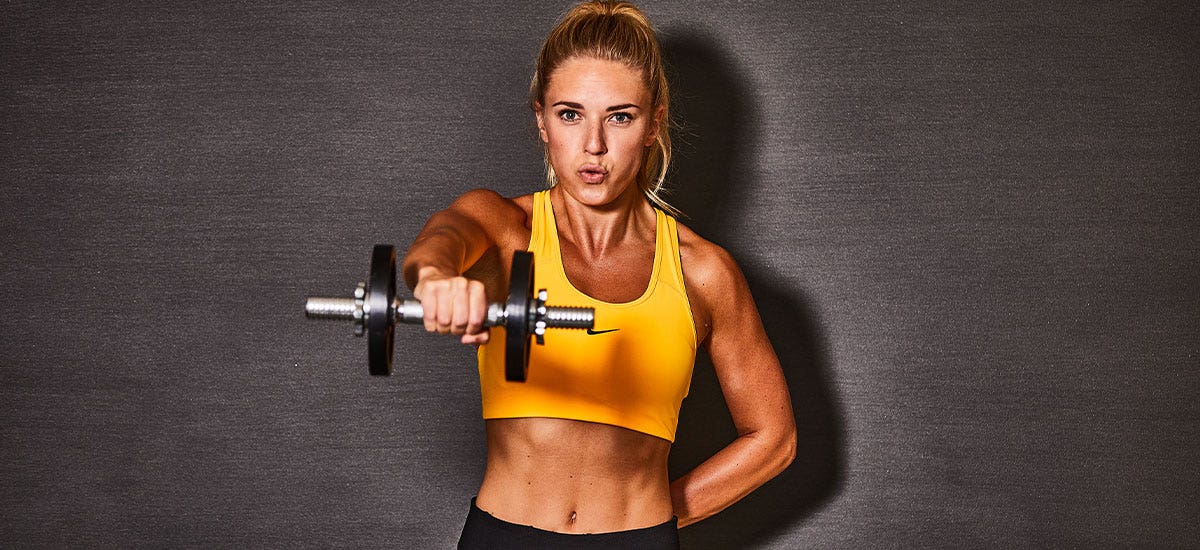 What kind of weight plates are there?
Weight plates are also available with hole diameters of 30 mm and 50 mm to match the respective bar. Discs with a diameter of 30 mm are usually available in units of 0.5 kg, 1.25 kg, 2.5 kg, 5 kg, 7.5 kg, 10 kg and 20 kg. You should choose iron or cast iron for the material because of its long life. Chrome-plated weight plates have an even more robust surface.
Weight plates for Olympic bars with a diameter of 50 mm are also available in 15 kg and 25 kg. If you are training on a sensitive surface, polyurethane (PU) coated plates are recommended. This protects the floor and reduces noise when you put the barbell down.
When buying weight plates, make sure that large plates in particular have handles. These make changing the weights much easier. Discs for both sizes are usually offered in pairs or combined as a set. If you are just starting to train, a set of plates is particularly useful. If you already have a certain selection, you can buy individual discs in pairs.
How does changing weights work?
With all dumbbell systems except the compact dumbbell you can flexibly adjust the weight. With dumbbells and barbells with plug-in weights and screw or plug-in locks, you can simply open the lock and take off the discs or put on more weight discs. Especially with 50 mm bars and large weight plates, changing is easier if the bar rests on a support such as a rack, as the plates do not rub on the floor. Remember to secure the weights with a lock after changing the discs.
With the Smartlock dumbbells there is no need to put them on. When exercising, select your desired weight by turning the handle bar.
Which muscles can be trained with the dumbbell?
With dumbbells you buy a universally applicable training tool for every level of performance. The training intensity can be individually adjusted by changing the weights of the dumbbells and barbells. The range of use of dumbbells therefore extends from health athletes to ambitious fitness athletes to professional athletes. Train your muscles with dumbbells and barbells:
Arms
Neck and shoulders
Back
Chest
Abdomen
Buttocks and legs
Note that some exercises naturally allow you to move more weight than others. This is especially true for multi-joint exercises such as bench press, squats or rowing. Therefore, either dumbbells with sufficiently variable weights or a selection of compact dumbbells are useful. With a combination of barbells and dumbbells and several weight plates and locks you are particularly flexible.
How does training with dumbbells differ from training at a weight station?
Strength training with a barbell is more demanding in terms of coordination than guided machine training. You have to do more coordination work during training, but you activate even more muscle fibres.
If you want to support another sport besides pure muscle building, training with free weights is particularly recommended. Dumbbell training improves explosiveness, speed and coordination more than any other form of training and can be used for any training goal.
Depending on the version, barbells and dumbbells require less space than a weight station. Dumbbells and weights are therefore ideal for your home gym with limited space. Note, however, that when training with heavy weights, additional equipment such as a training bench or a dumbbell rack is useful.
Does the weight have to be the same on each side of the dumbbell?
For beginners it is definitely recommended to aim for a balanced body development. You can achieve this by loading your muscles evenly and should therefore also make sure that you load your dumbbells symmetrically.
If you have already gained some training experience and want to consciously load one side of your body more, you can also load the barbell unevenly and thus set a focus in your training. This way you can further improve your coordination and stability.
What accessories do I need?
For a safe workout, you should not do without tension or clamp locks for the weights and floor protection mats .
Depending on your individual training goals, it also makes sense to use additional accessories. For intensive chest training, a weight bench like the Bermuda XT with dumbbell rack is recommended. You can also perform (incline) bench presses with the barbell. If you include heavy squats or Olympic weightlifting in your workout, you will also need a dumbbell rack like the Core 4.0 for a safe and effective workout.
Fitness gloves are helpful to protect your hands during regular workouts. For a tidy home gym, a weight plate rack is also a useful addition.
How do I care for dumbbells and accessories properly?
Since dumbbells are made of robust iron and do not have any mechanisms other than a ball bearing, the dumbbell is usually maintenance-free. Simply clean the handle bars and your accessories with a damp cloth after training.
Where can you buy dumbbells and weights?
You can easily buy dumbbells and weights in the HAMMER stores online or in one of our local stores. Convince yourself of the large selection of professional compact dumbbells, dumbbells and barbells, weight plates, dumbbell sets and practical accessories at attractive prices.
If you have any questions when buying dumbbells online, our expert telephone service will be happy to help you. Our professionals for strength training and dumbbell equipment are looking forward to your call and will help you choose the best dumbbells.
HAMMER expert phone: +49 731 974 88-518 (Mo - Sa from 9 am - 7 pm). We will also be happy to call you back.
Where can you test dumbbells and weights?
You want to hold your dumbbells in your hand before you buy them? Then visit us in one of our HAMMER stores. There you can test dumbbells and weights at your leisure and decide on your favourite combination of barbells, dumbbells, weight plates or dumbbell sets. Our fitness professionals in the stores are there to help and advise you!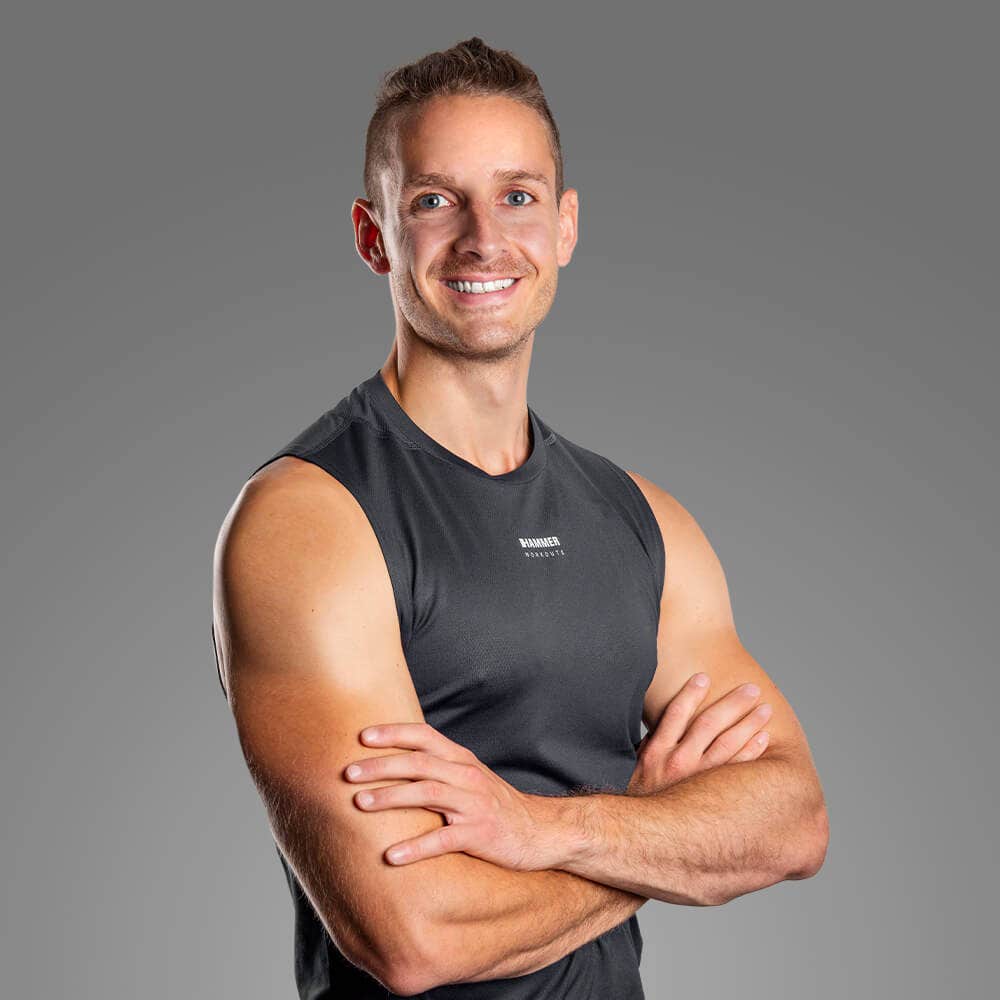 Alexander Seifried
Personal Trainer, B. Sc. Nutrition Management and Dietetics, M. Sc. Clinical Sports Therapy and Sports Physiology