Professional strength training at home
The original is only available from us. A Bio Force Multi-Gym, over 100 exercises and no noise from weight blocks. With the TNT resistance technology, you can challenge yourself again and again and strengthen your muscles effectively with different exercise options. With the Bio Force Multi-Gym, you can train your stomach, legs, shoulders and back in equal measure and shape your body. Experience professional strength training at the Bio Force Multi-Gym in your own four walls.
Bio Force – The Original
Innovative resistance technology meets revolutionary design. With a total of over 100 different exercise options, silent and even resistance and a max. resistance of up to 125kg, our Bio Force power stations get you into top gear. Instead of weights, the TNT nitrogen technology generates the training resistance - and that as quiet as a whisper.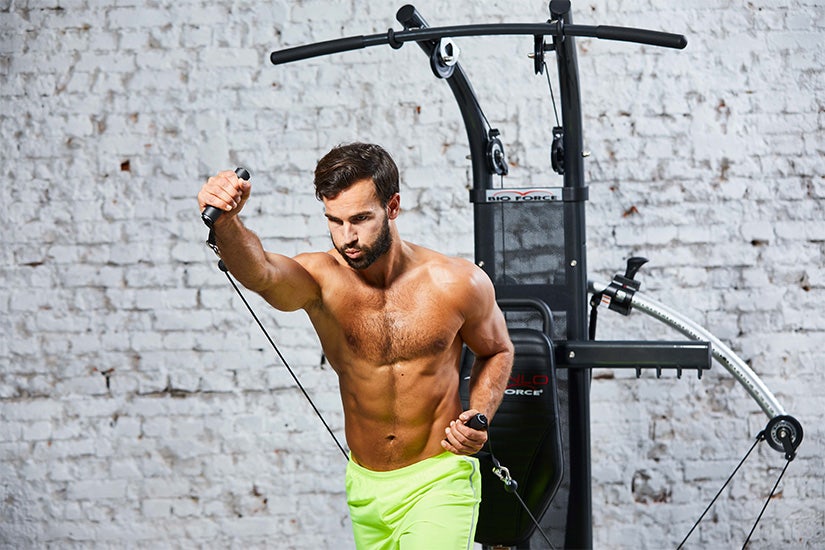 Whether abdominals, legs, shoulders or back - the training on the Bio Force is extremely versatile:
Butterfly
Bench press
Latissimus pull
Leg curl
Arm curl
Row
Triceps press/pull
Leg press
Leg raise
Abdominal workout
Bilateral training
Bio Force - Professional Strength Training
Whether you are a beginner or a professional, our Bio Force weight stations offer you everything you need for your strength training.
Even professionals like basketball player Sebastian Betz from Ratiopharm Ulm and personal trainer Eric Lichter (NSCA - strength and conditioning specialist) from the USA are convinced of Bio Force.
"With the Bio Force Extreme strength station, I can train in a super functional way. Thanks to the cable pulleys, over 100 exercises are possible! Perfect to get every muscle fibre fit for the Bundesliga games!"
- Sebastian Betz

"Bio Force helps me stay strong and FIT and challenges me to be a champion every day! WHAT FORCE IS MOVING YOU?"
- Eric Lichter
Are you ready for the Bio Force Challenge?
Are you ready for the Bio Force Challenge?
How do I train with the Bio Force?
To give you a little insight into how professionals train with the Bio Force, we accompanied Felix and Eric during a training session:
Bio Force is also ideal for women. Would you like a flat stomach and toned legs? We show you how:
Where can I test the Bio Force?
Do you still need help with your decision? Then simply visit us in our HAMMER stores and let us advise you. We are also happy to help you on the phone.