Running training all year round
Lose weight and build up fitness without being dependent on wind and weather. You can enjoy these and other advantages when training on the treadmill at home. The varied training programmes allow you to do a wide range of treadmill training: slow walking, fast sprints or running with an incline - everything is possible on your treadmill. As a beginner you can simply get fit or as a professional runner you can bridge the winter break. Here you can find the right treadmill for your running training at home.
Buy treadmill
Always available and without excuses, treadmill training quickly becomes a routine in your own four walls. Our professional treadmills are characterised by high-quality components paired with impressive design. Your joints benefit from the spring-loaded Supersoft running surface. A huge advantage compared to jogging units on hard asphalt.
The delivery of the fitness equipment is free of charge. As the manufacturer, we pay the shipping costs for you. If you don't like the treadmill, you can return it to us within 14 days and get your money back.
What are the advantages of training on a treadmill?
Without regular exercise, the cardiovascular system weakens and stress is less easily dealt with. Exercising in your living room with your own treadmill increases your well-being, strengthens your muscles, makes your heart more efficient and lets excess pounds melt away. Depending on the training method you choose, calorie consumption can average up to 900 kcal per hour. So run for your life and don't wait for tomorrow.
Which muscles are trained when running on the fitness treadmill?
To put it simply, your entire musculature works from head to toe during running training. On the one hand, you need a well-functioning cardiovascular system and, on the other hand, a certain degree of balance, as you are always standing on one leg for a short time when running. Your muscles must therefore constantly coordinate and stabilise so that your entire body remains stable at any running speed. You actively strengthen the entire musculature of your lower body. Depending on the speed and incline, your circulation and metabolism are also specifically trained.
Heart: Regular treadmill training strengthens the heart muscle and at the same time strengthens the cardiovascular system.
Thighs: Training on the treadmill shapes and strengthens the 4-headed thigh extensor.
Buttocks: Your entire gluteal muscle group with its various parts is optimally trained during the running workout.
Back muscles: Because of your upright posture, your back and torso have to do stabilising work. If you run uphill, your back muscles are used even more intensively.
Calves: The movement on the treadmill results in defined and strong calf muscles. Die Bewegung auf dem Laufband resultiert in einer definierten und starken Wadenmuskulatur.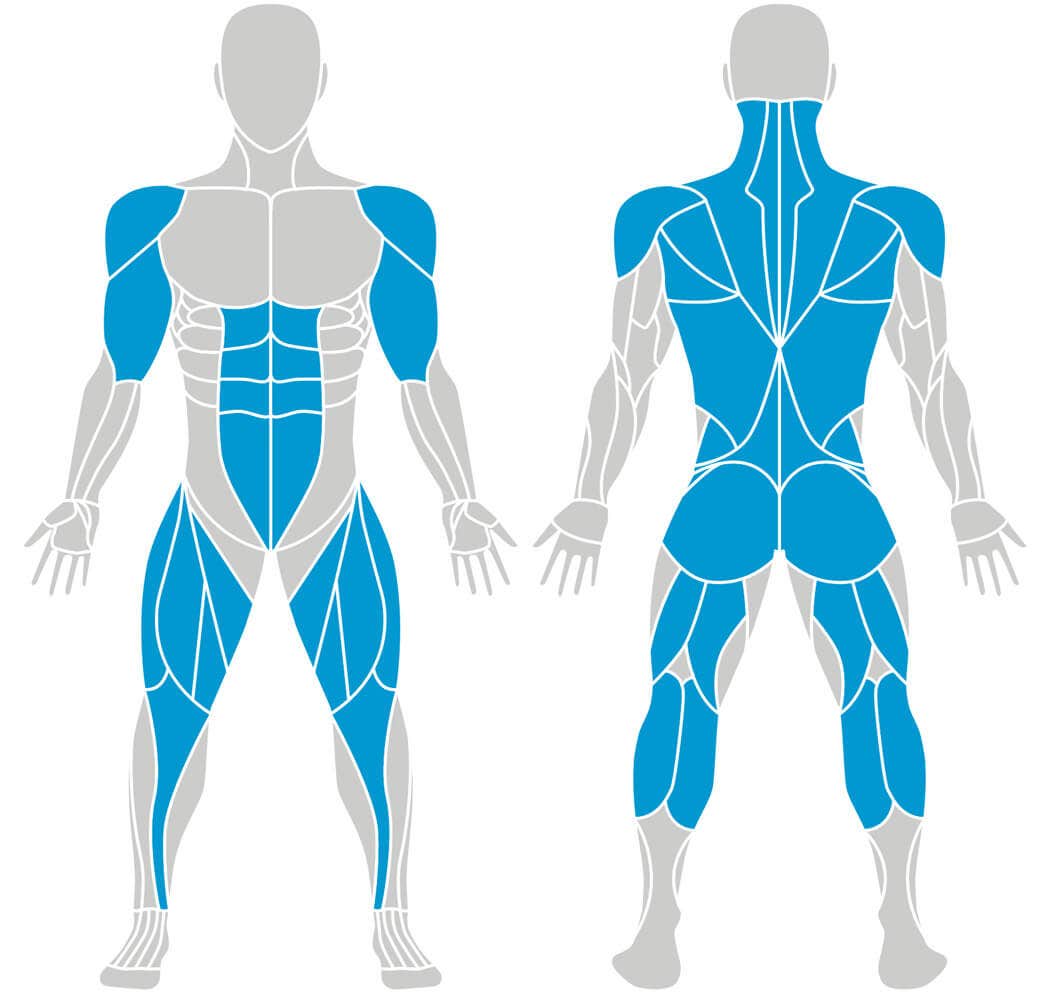 Buy an ergometer, cross trainer or treadmill: Which device is better?
Treadmills, cross Trainers and cycle ergometers can all help you improve your endurance. However, there are big differences in terms of body position, effort, selection options and training effects. The decision to buy a new piece of fitness equipment at home should therefore depend on your individual fitness goals:
Getting started with endurance training
For beginners and to shed pounds or improve your general fitness, a bicycle ergometer is a great choice. Simply start pedalling and your heart rate will increase and with it your calorie consumption.
Increase your performance level
The cross trainer is the ideal piece of home equipment to increase your performance level. The whole-body movement has a positive effect on the cardiovascular system, you shape your legs and strengthen your upper body at the same time. Especially if you have joint or muscle problems in your back or knees, a crosstrainer is the perfect training device because of the low load.
Burning calories
If you want to burn calories, noticeably improve your endurance or optimise your running style, we recommend buying a treadmill. Compared to other endurance machines, treadmills require you to move your entire body weight over and over again, so you automatically burn a lot of calories.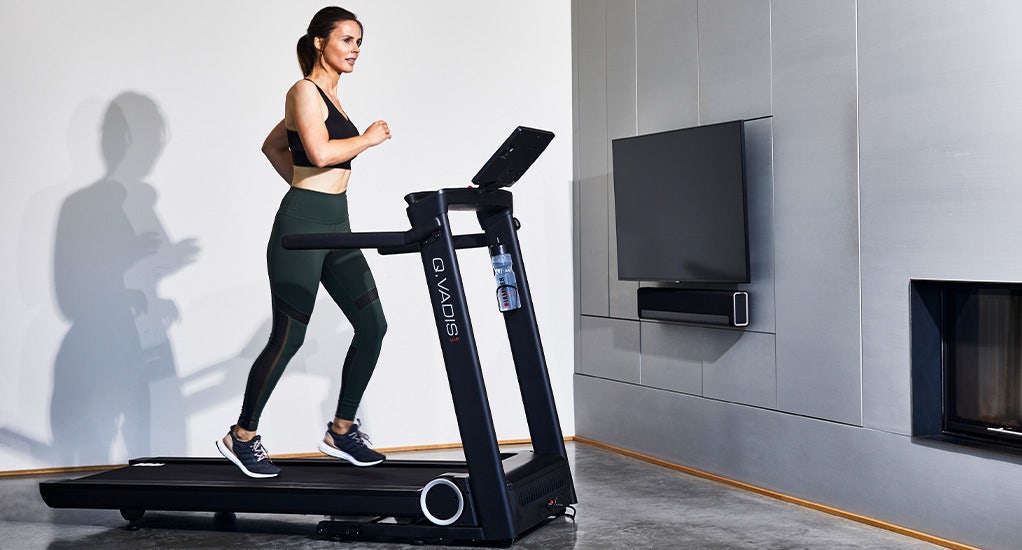 Pulse-controlled training: What is the optimal training pulse for a treadmill?
Pulse-controlled training programmes are predestined for health-oriented endurance training. Your heart rate is measured with the help of a Chest belt or pulse belt or integrated hand pulse sensors. Depending on the model, the professional treadmill adjusts the speed and incline according to the current target pulse. Your heart rate is influenced by your fitness level and training intensity as well as your age, gender and physical disposition.
Depending on your athletic ambition and training goal, you should train in different heart rate ranges. If you want to boost your fat metabolism and burn calories, training at 60-70% of HRmax is recommended. Intensive endurance training is achieved by training at over 80% of maximum heart rate. This is always referred to as a percentage of the maximum heart rate. The recommended maximum heart rate can vary from person to person. Cardio exercise is not only healthy, but also brings you faster to more success.
Kaufberatung: Welches Laufband für zu Hause?
The selection of different treadmill models is huge. Basically, professional treadmills are extremely durable and robust. Even with frequent use, they score points with an extremely long service life. Our professional treadmills convince with a wide range of settings, first-class workmanship and numerous programmes.
Key technical data: Engine, damping system, accessories
The engine power is usually stated in horsepower. Pay attention to the maximum speed and maximum load as well as the declared continuous power. If you want to practice sprints and frequently train your endurance, then a professional treadmill for advanced users with a strong motor of at least 3 hp continuous power makes sense. Our professional treadmills challenge you at peak speeds of up to 22 km/h and 8.5 hp maximum power. This fast speed is comparable to cycling. At the same time, these powerful engines ensure a pleasantly smooth and comfortable ride.
Easy on the joints and ergonomic
Especially frequent runners benefit from the unique damping system of our professional treadmills. Rubber layers that are easy on the joints absorb shocks and give you the feeling of running on a forest floor. The super-soft surface protects and relieves your joints even during regular jogging sessions.
Set the speed of the treadmill
Ambitious runners with intensive and long training sessions have higher demands on their training equipment. The incline should adjust automatically and a sufficiently large motor power for speed training is indispensable. If you integrate interval runs with high-intensity sprints into your training plan, choose a treadmill with at least 2 hp continuous power. Important: The more finely the speed can be adjusted, the greater the treadmill's range of use. For a very fine adjustment of the speed, 0.1 km/h steps are suitable. Top models like the treadmill Performance accelerate up to 22 km/h. Enough for sweaty interval training with intermediate sprints.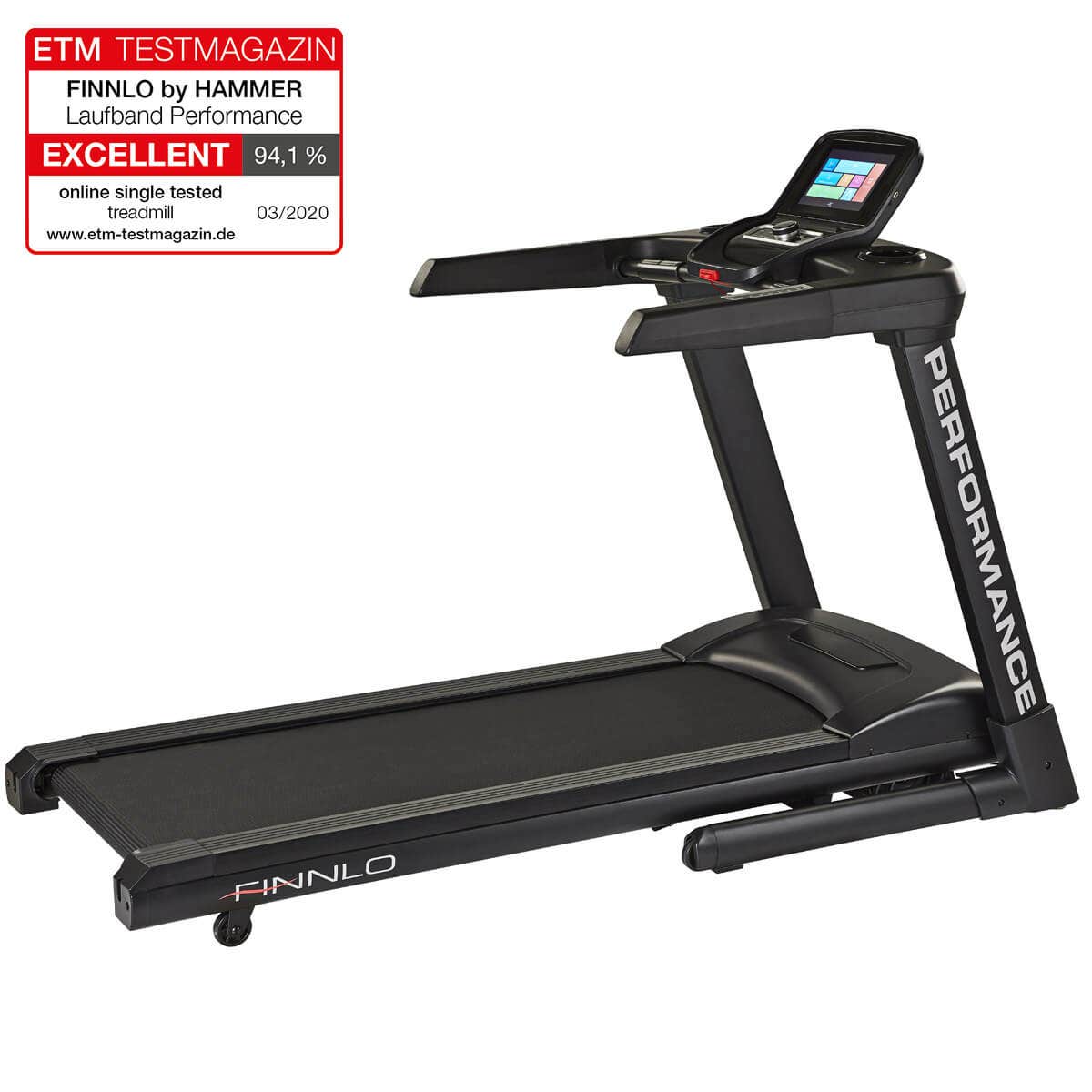 With the treadmills of the Q. VADIS series, the incline can be increased by up to 12% during your running workout. When adjusting the incline, the entire construction moves upwards and the display also adjusts automatically. With dimensions of 152 x 51 cm, the large running surface of the Q. VADIS 10.0 is also impressive. Athletes with a body weight of up to 150 kg enjoy an authentic running feeling like on a forest floor on the Super Soft surface. In addition, the treadmill surface has enough grip for intensive sprints. You can measure your pulse during the workout with the integrated hand sensors. If you want to use a chest strap for heart rate measurement, a heart rate receiver is already integrated in the device. If you want to use a Chest belt for heart rate measurement , a heart rate receiver is already integrated in the device. ETM Testmagazin even awarded the Q. VADIS 10.0 treadmill with VERY GOOD (95.3%) in a comparative test.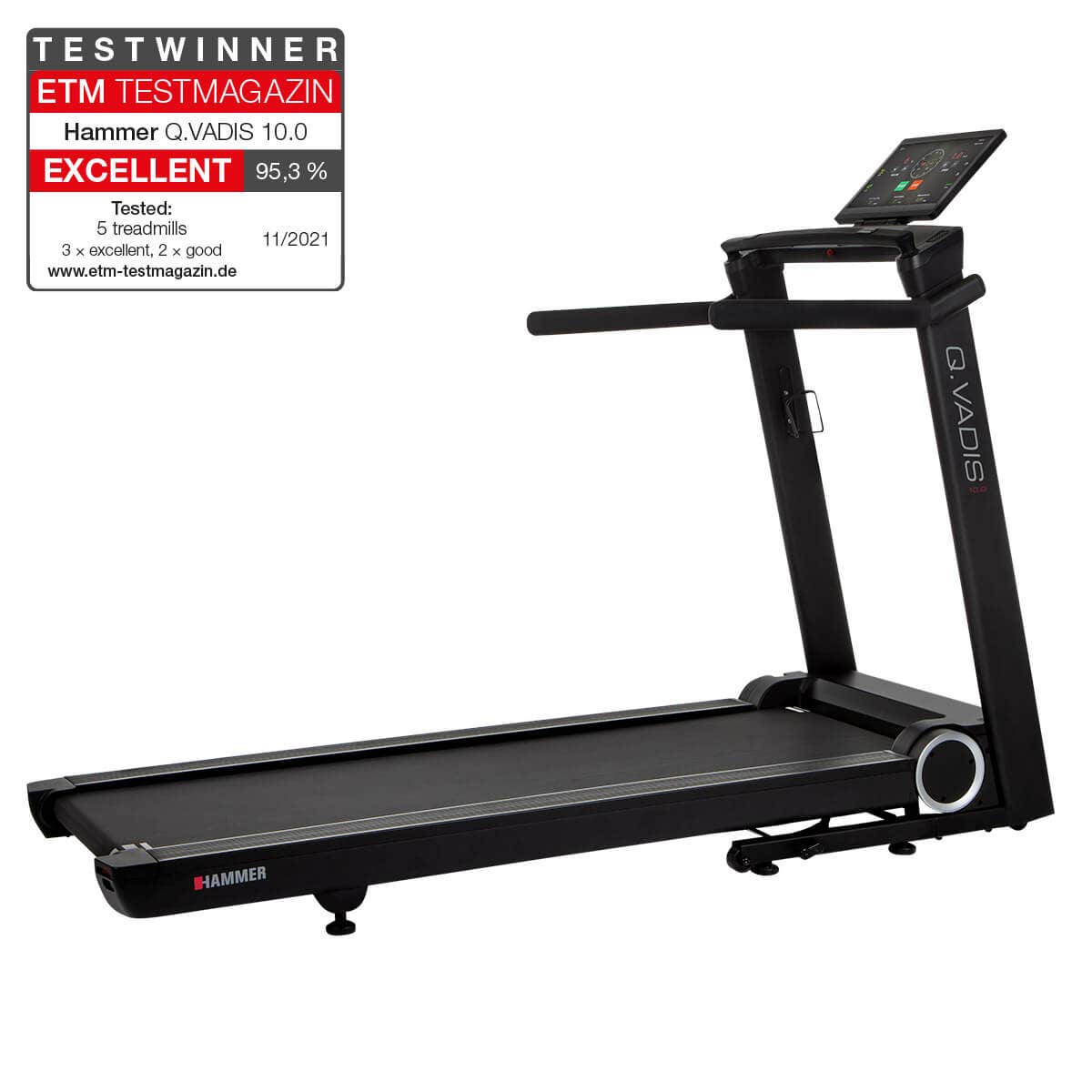 Size of the running surface
Convince yourself of more comfort and safety with the extra large running surfaces of our professional treadmills. For fast and long strides, a longer treadmill is advantageous, the width gives you more space when running. Ideally, the treadmill should be at least 130 cm long and 45 cm wide. Sufficient space is essential for proper technique training. Make sure that the dimensions fit well into your training room. The foldable, compact and easily stowable equipment offers ambitious hobby athletes excellent training possibilities.
Quality meets comfort
Professional treadmills have multi-media entertainment such as Bluetooth, app connection (e.g. Kinomap) and track videos.
Steep uphill to the finish
Some treadmills have an integrated incline motor. Depending on the model, this electromechanically adjusts the incline of the running surface by up to 15 %. So in future you can easily do the demanding uphill workout at home in your living room.For this purpose, use our professional treadmills in studio quality such as the TR 8000 or the .
Who should buy a professional treadmill?
Experienced runners and particularly ambitious athletes are well advised to buy a professional treadmill. If you go jogging several times a week and like to do a few intermediate sprints, then a professional treadmill for your home is exactly the right thing for you. Even heavy fitness athletes benefit from the high stability of professional models. You can train in all weathers without compromise.
Folding treadmill for training at home
If you only have limited space in your home, then a folding treadmill is the right choice for you. In the twinkling of an eye, you can unfold the treadmill and place it where you want to train. After a successful workout, the treadmill can be easily stored again with the help of a few handles and you have enough space for other things. Of course, the stability and workmanship is as high as usual despite the folding mechanism. We especially recommend the treadmill Q. VADIS 3.0 , which you can park in a vertical or horizontal position with the innovative extra "Fold Button" on the console and the foot pedal without screwing. This way, the treadmill can be stored in a space-saving way.
What else is important with professional treadmills?
Depending on your specific needs, there are other criteria that an advanced treadmill should fulfil. If you have limited space within your own four walls, then a foldable treadmill is the right choice for you. In addition, high-quality treadmills are characterised by their particularly quiet and smooth running. The noise level is therefore lower than with cheaper models, even at high speeds, thanks to the unique workmanship. In order to be able to train safely and with different running techniques, a sufficiently large running surface is also recommended. A professional treadmill requires less maintenance than cheaper models. Maximum stability and comfort are absolutely paramount here!
Maintenance and care
To enjoy your treadmill for a long time, regular care and maintenance is advisable. Permanent exposure to sunlight and moisture will damage the material. Therefore, the location of the treadmill should be dry and somewhat protected from the sun. To protect the floor and prevent noise from your neighbours, we recommend the use of a floor protection mat . Also make sure that the treadmill is placed at a distance from the wall. This way you can reduce the noise level even more. By the way: The assembly of our treadmills is uncomplicated and easy to manage. Large parts are already pre-assembled. Soiling from shoes damages the surface. If the treadmill does get dirty, use a damp cloth to clean it. It is also best to vacuum it completely every 14 days. Once a month, check the lubrication under the edge. With the silicone spray you extend the life of the treadmill belt.
Accessories and safety instructions
Most treadmills have drink holders to keep you hydrated. The safety clip ensures that the training device stops immediately if you trip or accidentally move too far back to the end of the running surface. Multi-media options such as holders for tablets or smartphones provide that extra portion of motivation during your workout. To be able to train healthily based on your heart rate, you should get a high-quality chest strap to measure your pulse. There are classic models as well as versions for the arm . For even more targeted upper body training, are suitable because the additional weight shapes your arm, shoulder and back muscles.
Test treadmill
Compare our treadmills and choose the right one for your needs. Our experts in the HAMMER stores will help you with your decision. You also have the opportunity to test different models on site. Bring your running shoes and together we will find the perfect treadmill for you. You can then either take your new favourite machine home directly from the HAMMER store or have it conveniently delivered and assembled.
We also look forward to your call and together we will find the endurance machine for you at home. Get started and let your resolutions and fitness goals finally become reality.
HAMMER expert telephone: +49 731 974 88 518 (Mo - Sa from 9 am to 7 pm). We'll also be happy to call you back.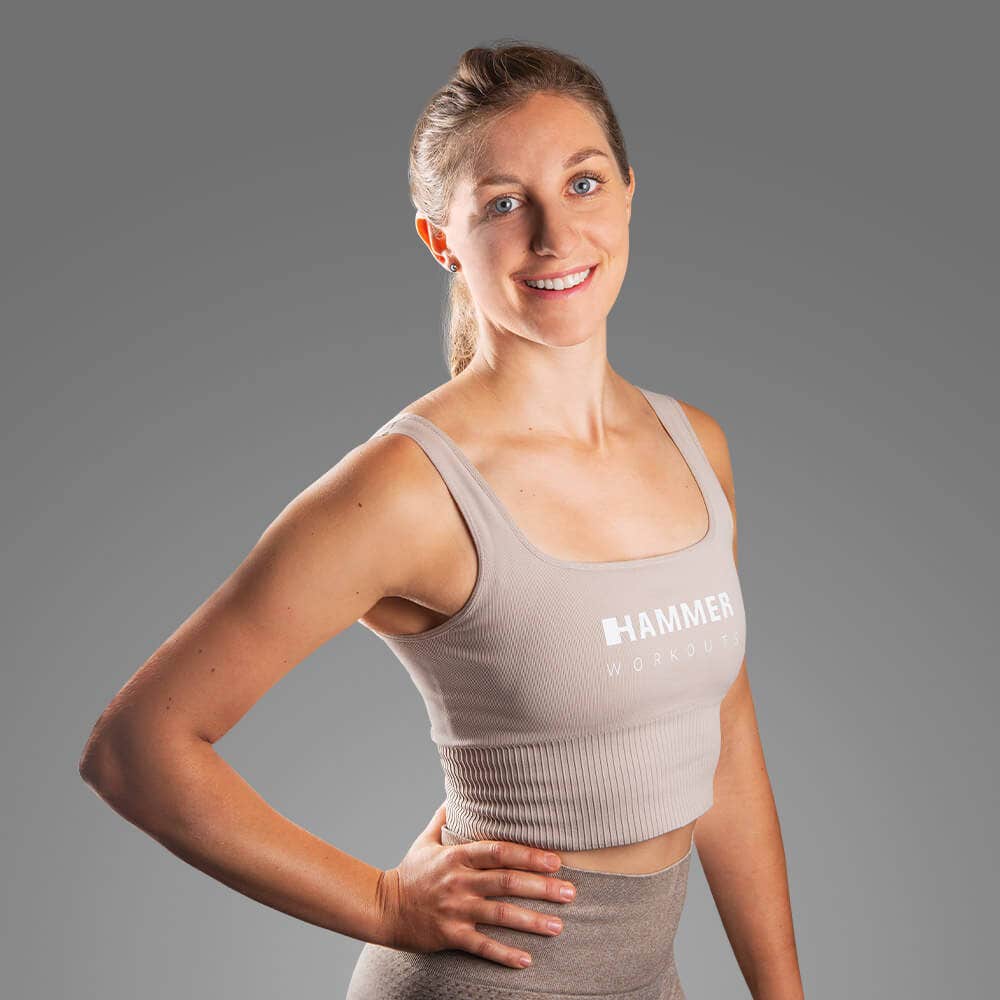 Valentina Bahl
Sports therapist, personal trainer, B. Sc. nutrition management and dietetics, M. Sc. clinical sports therapy and sports physiology
FAQ
How individually can the speed of the treadmill be adjusted?

How individually the speed can be adjusted depends on the model. A fine adjustability in 0.1 km/h steps is advantageous. Ideally, the maximum speed is 22 km/h.

Is a treadmill suitable for pregnant women and seniors?

Seniors and pregnant women benefit very well from training units on the treadmill due to the everyday motion sequence and the individual increase in load. Hand grips can be used to ensure greater safety. In both cases, a doctor should be consulted in advance.

Can I train on the treadmill after an injury?

If you have been cleared by a doctor to put full weight on both legs again after an injury, the treadmill is a great way to slowly optimise your running style. If you also use a mirror for training, you can check and improve your running technique. A treadmill is therefore ideal for deliberate gait training after injuries.

What is the difference between an ergometer, cross trainer and treadmill?

Among the endurance machines, the treadmill is the one with the most common movements. With the cross trainer you have a guided movement of your entire body. The ergometer training is the easiest endurance machine with a seated posture and a given leg movement. Treadmill training requires the highest degree of stability and muscular coordination.

Is a folding treadmill useful for training at home?

If you have limited space in your home, a folding treadmill is the right choice for you. After a successful workout, the treadmill is easily stored away with the help of a few handles and you have enough space for other things. Of course, the stability and workmanship is as high as usual despite the folding mechanism.