INSPIRE by HAMMER Live! Cycling ILC
Train with the best coaches – whenever and wherever you want!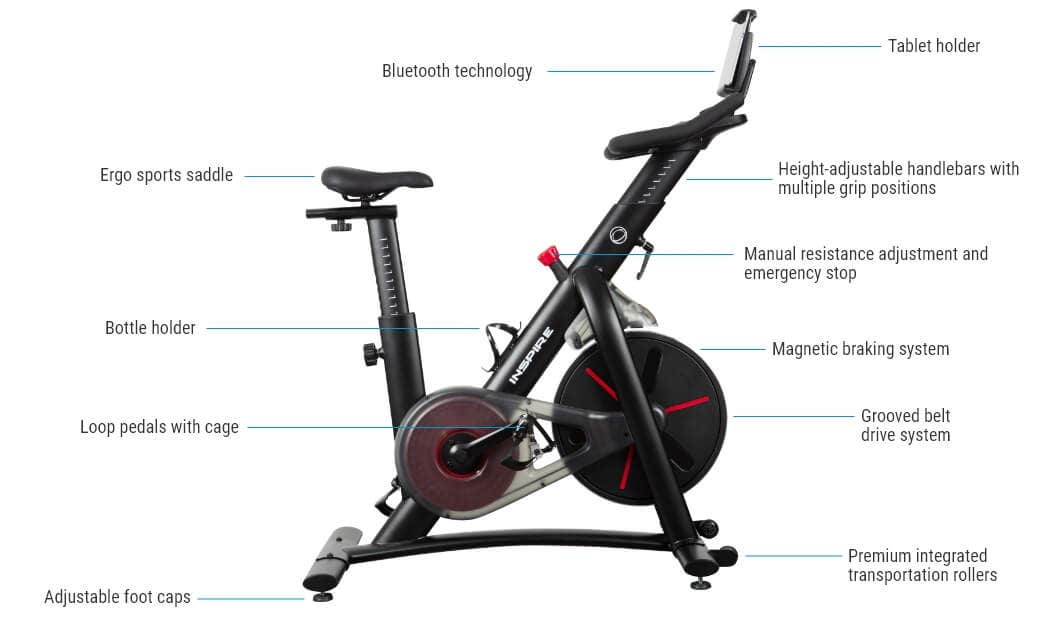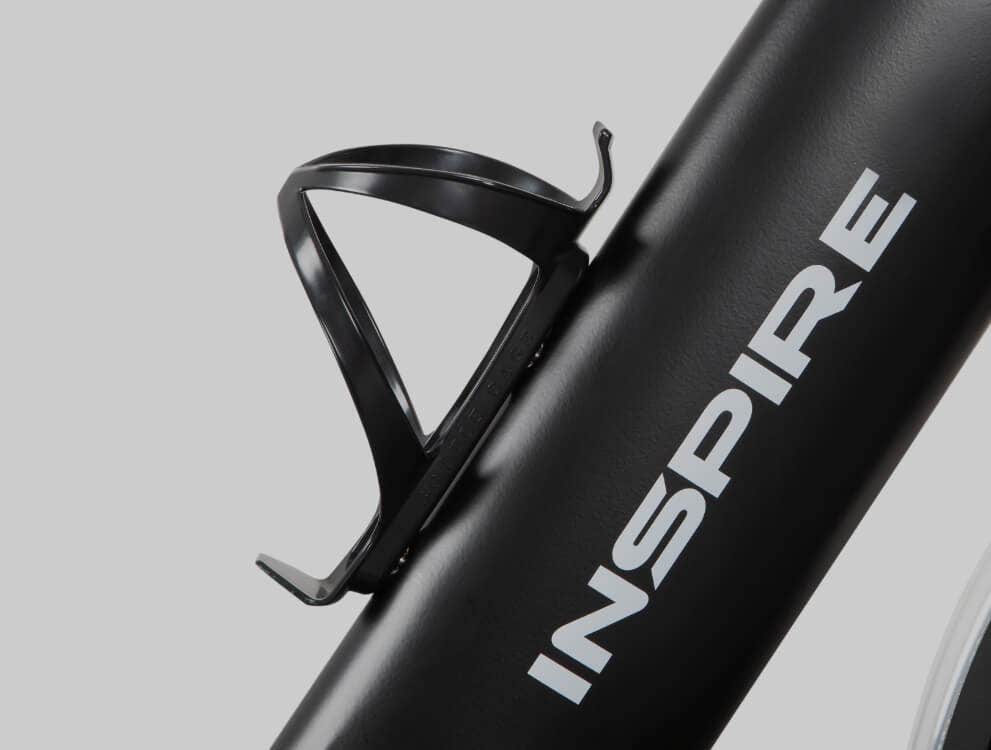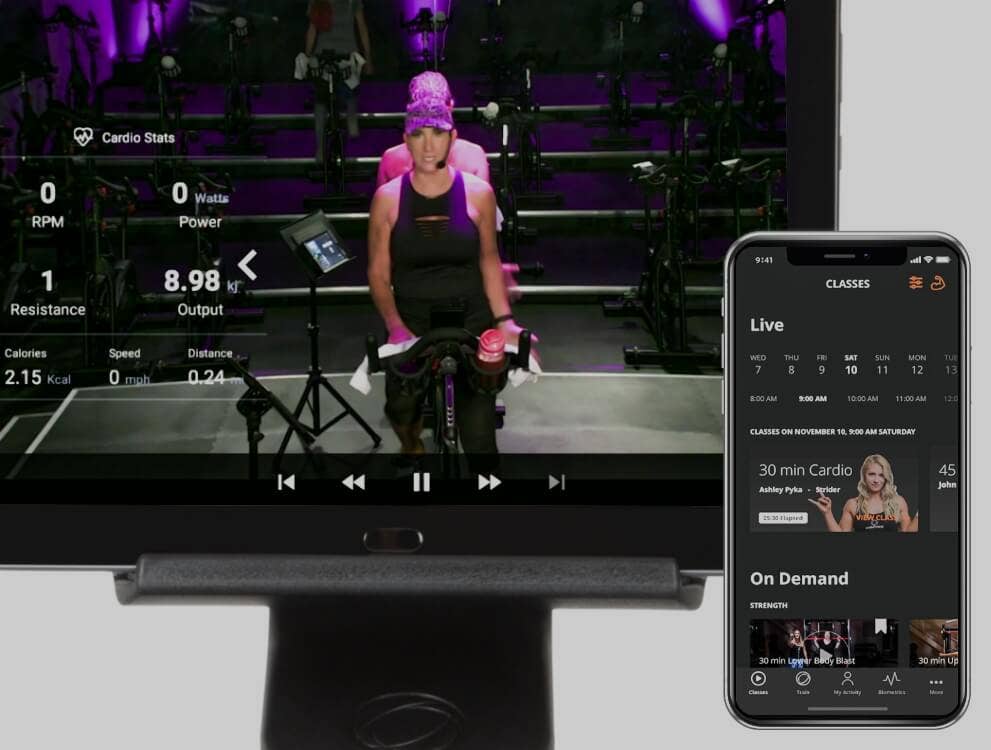 Live! Cycling classes and over 150 workout videos on demand
Go INSPIRE! Get carried away by the live cardio workouts from Inspire coaches and feel energised by the virtual cycling classes. Cardio training on your speedbike is the perfect stress and calorie killer! With the Inspire app, you can train together with the Inspire community and benefit from the flexibility of training at home. For a live workout or one of over 150 workout videos on demand – your HAMMER Inspire ILC is always ready for the next training session.
The Inspire ILC indoor cycle has a moveable tablet holder, and the adjustable seat and handlebars can be quickly and individually adjusted to suit you. Thanks to the stable construction, the bike can hold up to 135 kg.
Masterful momentum and pure dynamics
The flywheel drives you forwards and will take you to your desired fitness level with powerful speed sessions. With the HAMMER Inspire ILC indoor cycle, you can fight the excess pounds and melt calories. Perfect for fitness training and as preparation for your next cycling season. Your Inspire ILC indoor cycle will help you get the most out of your cardio training and get you ready for the next triathlon
Magnetic brake system in studio quality
The modern magnetic brake system of the ILC is maintenance-free and runs absolutely still. In contrast to a felt brake system, speed bikes with a magnetic brake system run silently and maintenance-free. Here, the training resistance is regulated by the distance between the magnets and the flywheel. The smaller the distance, the higher the resistance and the more intensive the training. This type of resistance control is completely contactless and therefore also without wear and disturbing noises.
Speed and stopping control
The red push-knob is right at your fingertips: an emergency stop for the flywheel to ensure safety, and for manual resistance adjustment. The modern magnetic brake is maintenance-free and absolutely silent. This gives you control over the load and lets you brake the flywheel immediately at the end of training or in an emergency.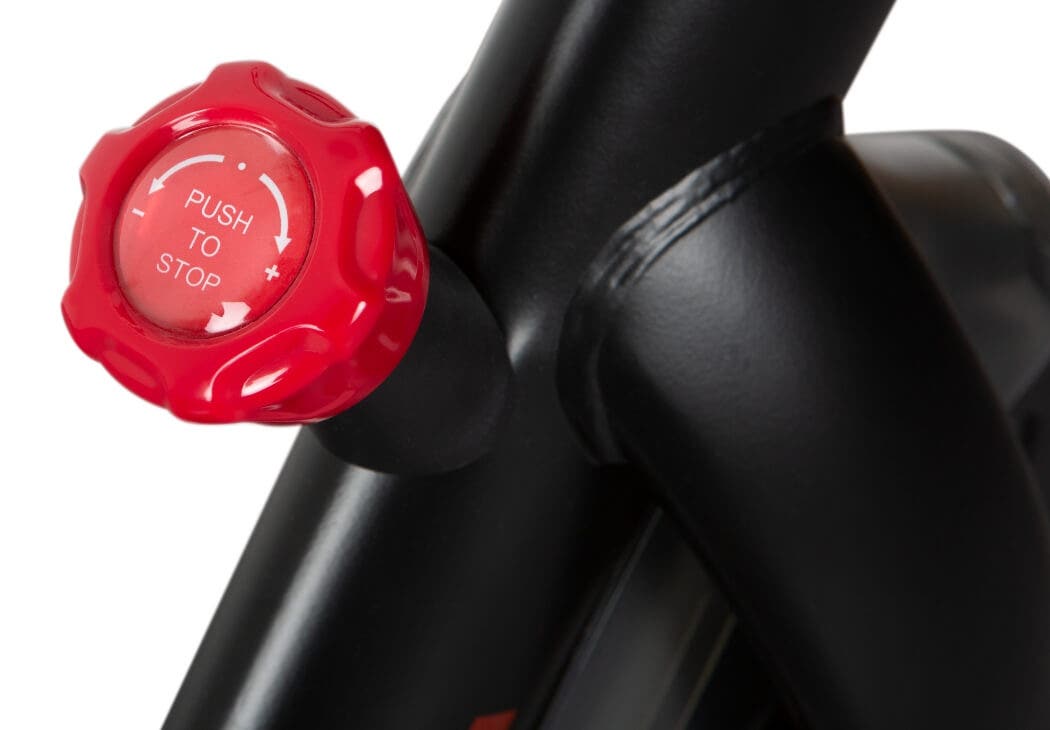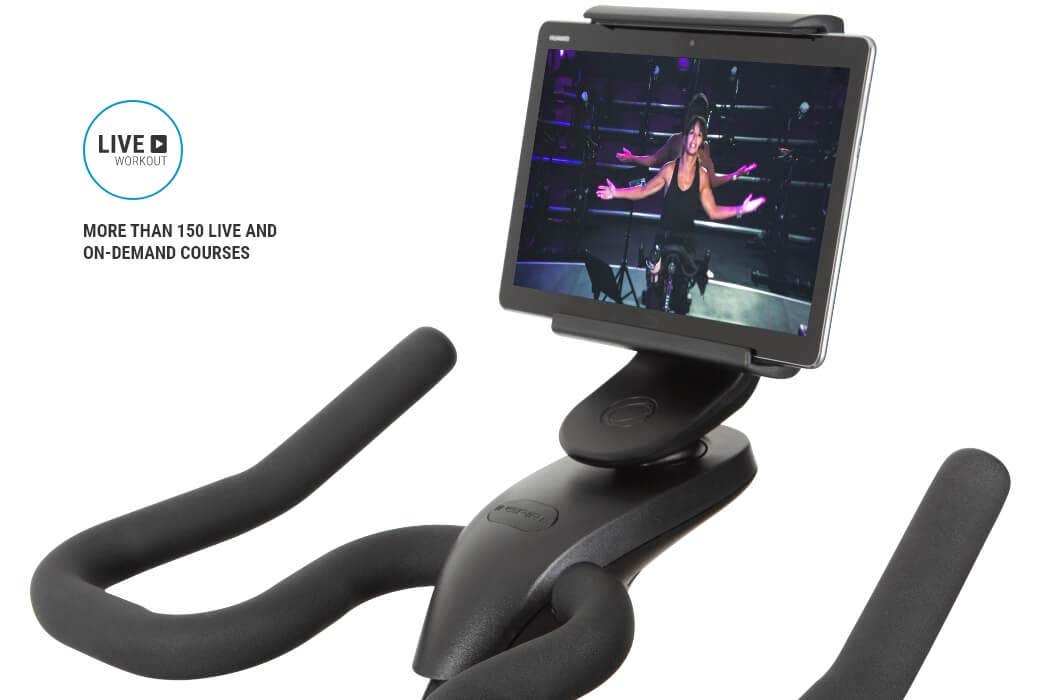 Inspire Fitness app: live cycling classes from your own home
Train together as if you were in a studio, but with the flexibility and ease of being in your own home. With the Fitness app from Inspire ($9.99 USD per month, 1st month for free!), you can experience live cardio workouts from your own home. The app is quick and easy to install on your tablet or smartphone. Simply scan the QR code on the tablet holder and follow the instructions on your mobile device. Over 150 different courses are available "on-demand" and more are added daily! Or use the Inspire Fitness app live! to work out with the best fitness trainers in California. The app shows you all important training data at a glance, and connects you with professional trainers to motivate you and cheer you on! Experience cycling classes, just like at the gym, but in the comfort of your own home, whenever you want.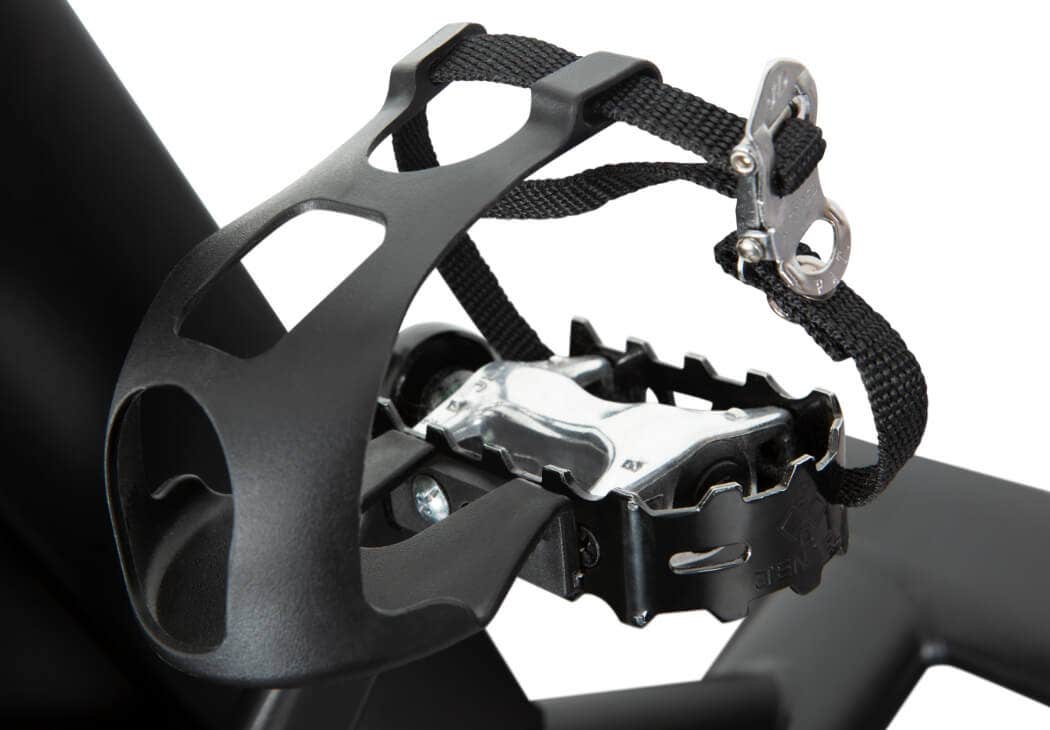 Sporty and secure
Exceptionally practical training with the HAMMER Inspire ILC: train with your sports shoes and fix your feet securely in the pedal cage. The pedals are comfortable to use and provide slip resistance, even when you stand up in the pedals for power cardio moves.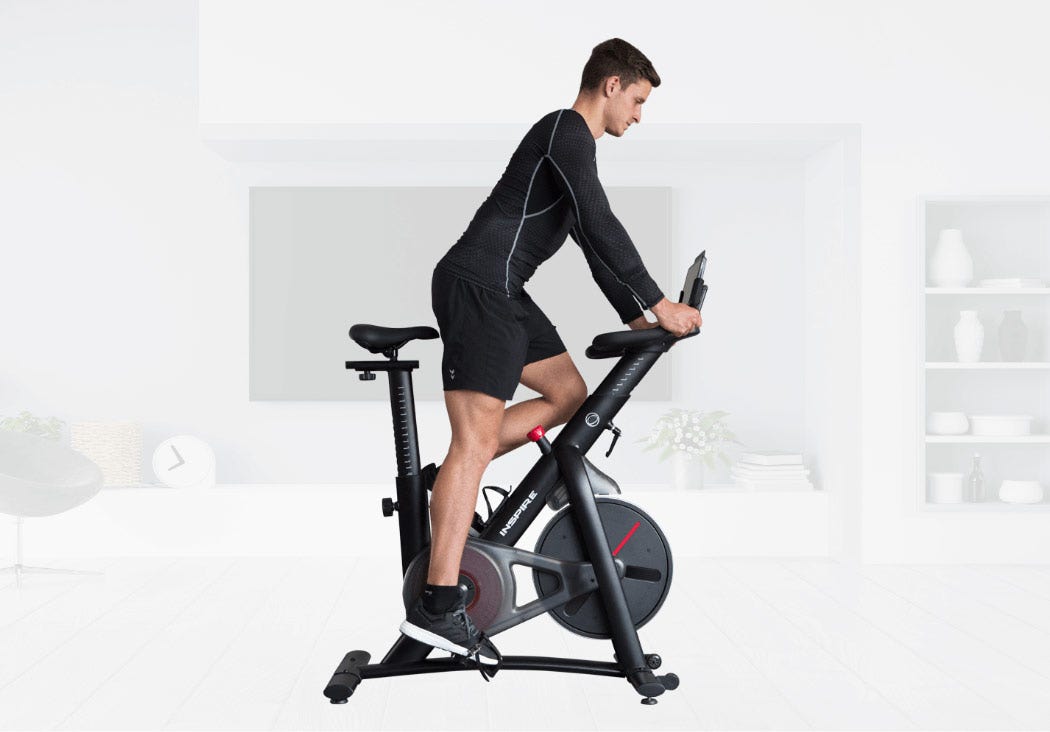 Energetic spinning disc
Set the magnetically braked flywheel in motion and push your speed training to a new level! The low-maintenance belt drive is also optimally designed for powerful training and pushes you to your limit. The low-impact, joint-friendly rotation spurs you on and you can feel the perfect movement of the pedal crank without annoying noises. Take off and enjoy high-speed training!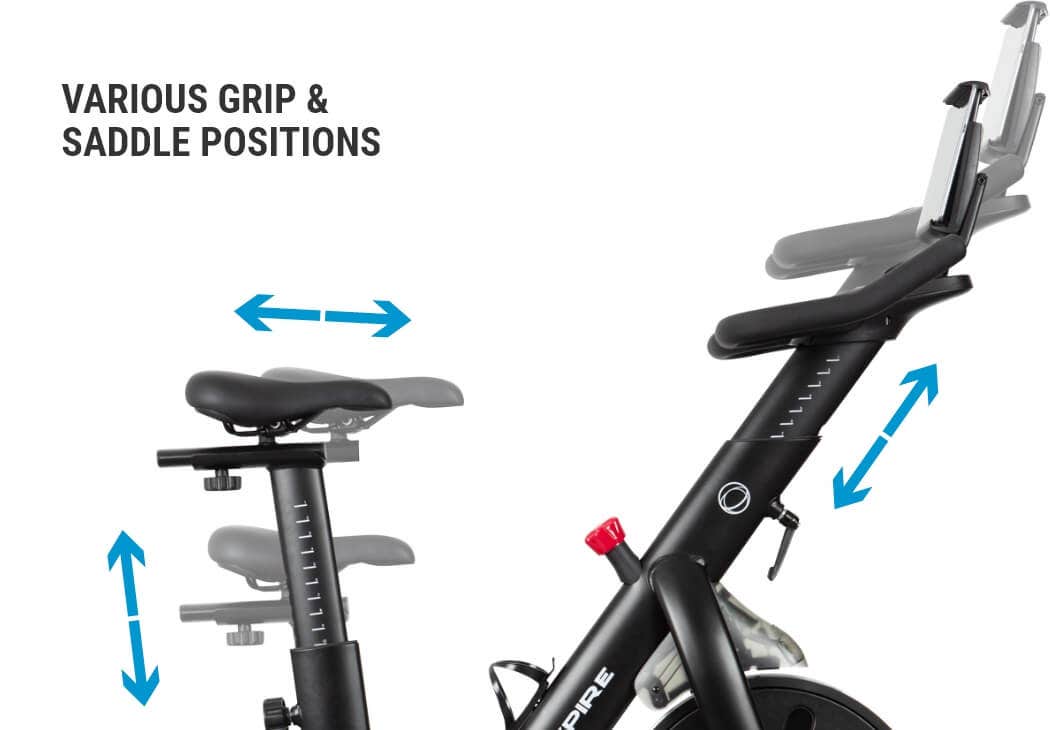 Just right for you!
Customise the athletic posture on the speedbike so that it is just right for you: seat and handlebars are quick and easy to adjust. The handlebars on this indoor cycle feature a nine-step adjustment, and the seat features a 13-step adjustment. The seat can also be adjusted horizontally so it is just right for you.
The sweat-repellent handlebar grips are non-slip and comfortable to hold, even during long, intensive training sequences. Simply wipe down the handlebars with a damp cloth once you're done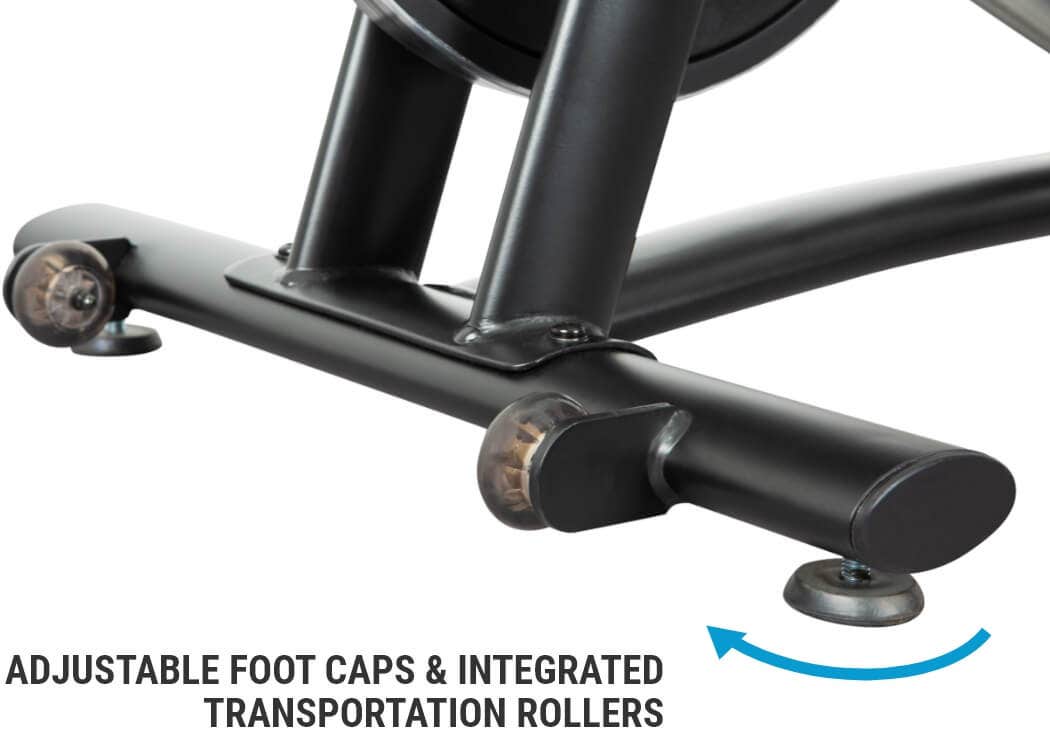 Stable and safe
The height level adjustment for uneven floors and a rack, made of high-quality steel, ensure guaranteed wobble-free stability, even when pedalling hard and during training sequences. With a weight load of 135 kg, the indoor bike is also suitable for heavier endurance athletes. After you have finished your speed training, the HAMMER Inspire ILC is easy to move, thanks to the two premium transport wheels, and can be stored in the desired location in your home.
Computer
Multimedia
App, Bluetooth, Tablet support
Display
Load profiles
Distance, Heart rate, Resistance Level, RPM, Speed, Time, Watt
Drive/brake system
Drive system
Grooved belt
Load spectrum
Stepless manual
Load control
RPM independent
Braking system
Permanent Magnetic
Resistance adjustment
Manual
Dimensions and weight
Build up size (L x W x H)
115 x 55 x 130 cm
Other features
Transportation rollers
Yes
Saddle height adjustment
13 times
Sattelverstellung
Horizontal, Vertikal
DIN Norm
DIN EN ISO 20957 -1/10
Shipping
Delivery time
4-8 working days
Delivery Information
Delivery to curbside (Please leave your phone number when ordering, so we can arrange a suitable delivery date for you)
Private use
on the main frame
10 years
Semi-professional use
on the main frame
5 years
* Semi-professional use: For use in hotels, sports clubs, etc. - not in fitness studios
Clients ask, our fitness experts answer
Do you need more information about the product? Ask your question here. Our fitness experts will answer quickly and easily.
4 questions already answered
Question:
Bis zu welcher Körpergröße ist das Bike geeignet from
Answer:
Die Frage kann man final nicht beantworten, da es u.a. auch auf das Verhältnis von Oberkörper- zur Beinlänge ankommt. Wir empfehlen einen Test in einem Hammer Store in deiner Gegend!
Question:
Kann das Fahrrad auch ohne App genutzt werden? from
Answer:
Das Speedbike kann natürlich auch ohne die Inspire-App genutzt werden!
Question:
Vorgang für die kostenlosen Apps herunterladen auf mein Handy. Mein Geräte inspire ilc. Danke from lothar helbock
Answer:
Das Speedbike ILC ist nur kompatibel mit der App "Inspire Fitness". Im App Store und im Play Store findest du diese App und kannst diese dann bequem runterladen. Bitte beachte die dazugehörigen Nutzungsbedingungen!
Question:
Ist compatible mit Apple Fitness? from Luis
Answer:
No, but you can connect it with the "Inspire Fitness" App!
Our recommendation for you