The top model from the SOLE by HAMMER treadmill series is the foldable professional treadmill F85
With a 4 hp motor (continuous power) and a maximum speed of 18 km/h, the SOLE F85 meets all demanding training challenges. The particularly long and wide running surface offers the necessary stability and security, which are important for professional training.
With the push of a button, the SOLE F85 accelerates to 18 km/h with its 4 hp quality motor (continuous power) and offers a gradient of up to 15%. The built-in suspension offers joint-gentle and whisper-quiet training like never before. During training, the intelligent heart rate control calculates your ideal heart rate based on your age. This enables safe, effective and health-oriented training. Thanks to the innovative folding mechanism, the treadmill can be folded up to save space.
Equipped with a new TFT monitor, the picture quality of the F85 can hardly be surpassed. This state-of-the-art training computer provides the best overview of your training data. It is also equipped with a Bluetooth function, with which you can track and save all data via the new SOLE Fitness App for the first time. Achieve your training goals faster and more efficiently. Connect to the two popular fitness apps Kinomap and ZWIFT with Bluetooth and train in a virtual world. All you need is a mobile device with Bluetooth functionality and the installed fitness app. With a Kinomap route, the gradient even adapts to the simulated route in real time.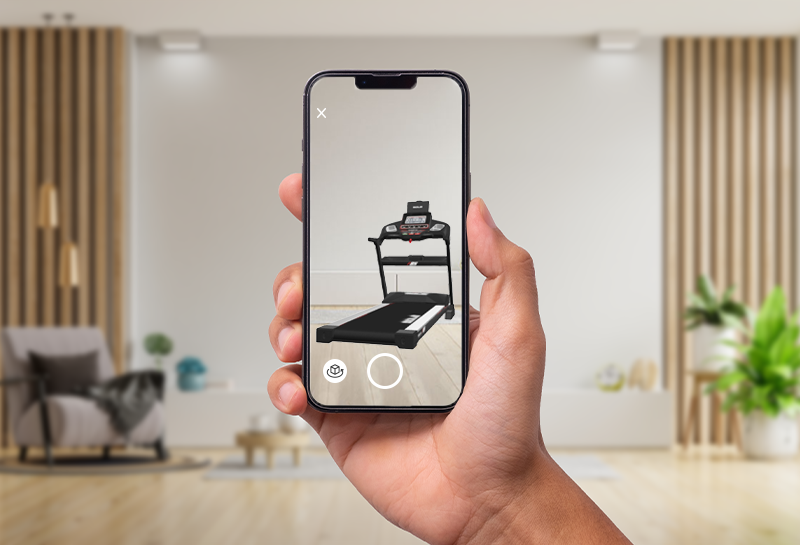 Experience your product in your own home now!
Whether as a 3D view on the PC or virtually in your own room via smartphone - immerse yourself in a whole new kind of product experience with HAMMER Augmented Reality.
Uncompromising perfection and technology for winners
The particularly stable frame construction allows a perfect running experience without compromises. That is why the SOLE F85 is designed for a maximum body weight of 180 kg. The incline/speed can be continuously adjusted during training. Speed ​​and incline can be adjusted up to 18 km/h and 15% with just a push of a button using the buttons on the handlebar or on the console. For a faster incline/speed change, press the quick selection buttons on the computer. The 23 cm TFT display shows the selected incline/speed. A total of 10 different training programs enable particularly varied training.
Your pulse can be measured either with the hand pulse sensors or with a chest strap. The 10 varied training programs ensure variety in training. Whether for beginners or marathon runners - the F85 sets no limits.
Integrated speakers allow you to connect your MP3 player or cell phone. Quickly connected via the supplied AUX cable, you can listen to your favorite music during training. The fan integrated in the cockpit supports you during more intensive running sequences and higher temperatures.
Gentle on the joints and space-saving
The treadmill also offers an extra wide and joint-gentle cushioned running surface of 156 cm x 56 cm. This newly developed "forest floor" cushioning technology reduces the stress on the joints compared to running on asphalt.
The SOLE F85 is particularly convenient and easy to fold thanks to an integrated folding function. When the folding lever is released, the treadmill is slowly lowered from the folding function to the floor. The treadmill can be moved particularly easily using the integrated transport rollers - and all without the support of another person.
Premium Features
The quick buttons on both sides as well as the precise setting in steps of 0.1 km/h and 1% incline offer the greatest comfort for your running workout at home. You can select the 10 preset training programs with just a push of a button on the computer.
The F85 from SOLE by HAMMER is a premium treadmill for the highest demands
Stability, maximum resilience, dimensions of the running surface and program variety:
The SOLE F85 from SOLE by HAMMER emerges as the winner in all areas and has not won the Best Buy Award for nothing.
Note
The SOLE app is not compatible with Bluetooth versions below 4.2. This means it cannot connect to the iPad2, for example. However, all newer devices work perfectly.
Computer
Display
TFT Graphik Display
Multimedia
App, Aux, Bluetooth, Speakers, Tablet support, USB
Integrated
5 kHz und Bluetooth
Display
Load profiles
Calories, Distance, Heart rate, Incline, Resistance Level, Speed, Time
Programs and profiles
Heart rate controlled programmes
2
Adjustable pulse limit
Upper pulse limit
Dimensions and weight
Build up size (L x W x H)
204 x 93 x 145 cm
Folding dimension (L x W x H)
127 x 93 x 178 cm
Other features
Speed
1-18 km/h in 0,1 km/h steps
Transportation rollers
Yes
Incline
0-12% in 1% steps, motorised
Performance
4.0 hp (continuous power) / 10.0 hp (maximum power)
DIN Norm
DIN EN ISO 20957 -1/6
Shipping
Delivery time
4-8 working days
Delivery Information
Delivery to curbside (Please leave your phone number when ordering, so we can arrange a suitable delivery date for you)
Marke: HAMMER
Private use
on the main frame
5 years
Marke: FINNLO
Private use
on the main frame
10 years
Marke: FINNLO MAXIMUM
Private use
on the main frame
10 years
Semi-professional use
on the main frame
5 years
Marke: HAMMER BOXING
Private use
Marke: INSPIRE by HAMMER
Private use
auf den Hauptrahmen
10 years
Semi-professional use
on the main frame
5 years
Marke: SOLE
Private use
on the main frame
10 years
Marke: Augletics
Private use
on the main frame
10 years
*Semi-professional use: For use in hotels, sports clubs, etc. - not in fitness studios
Clients ask, our fitness experts answer
Do you need more information about the product? Ask your question here. Our fitness experts will answer quickly and easily.
Our recommendation for you