Autark 7.0
Professional home training for highest requirements Gets your muscles back in shape.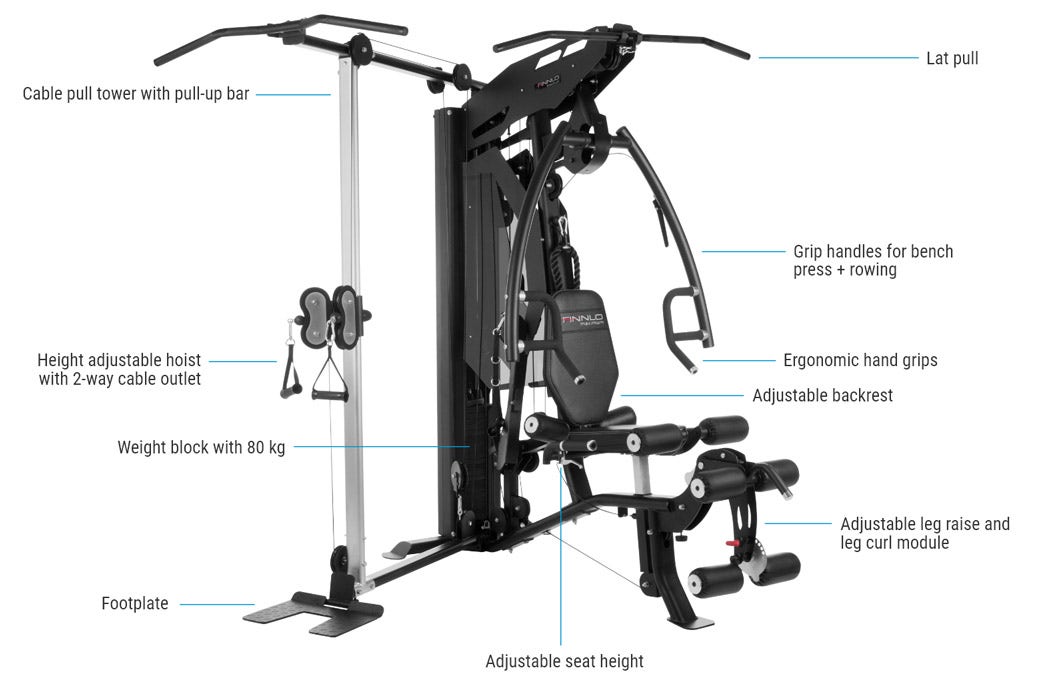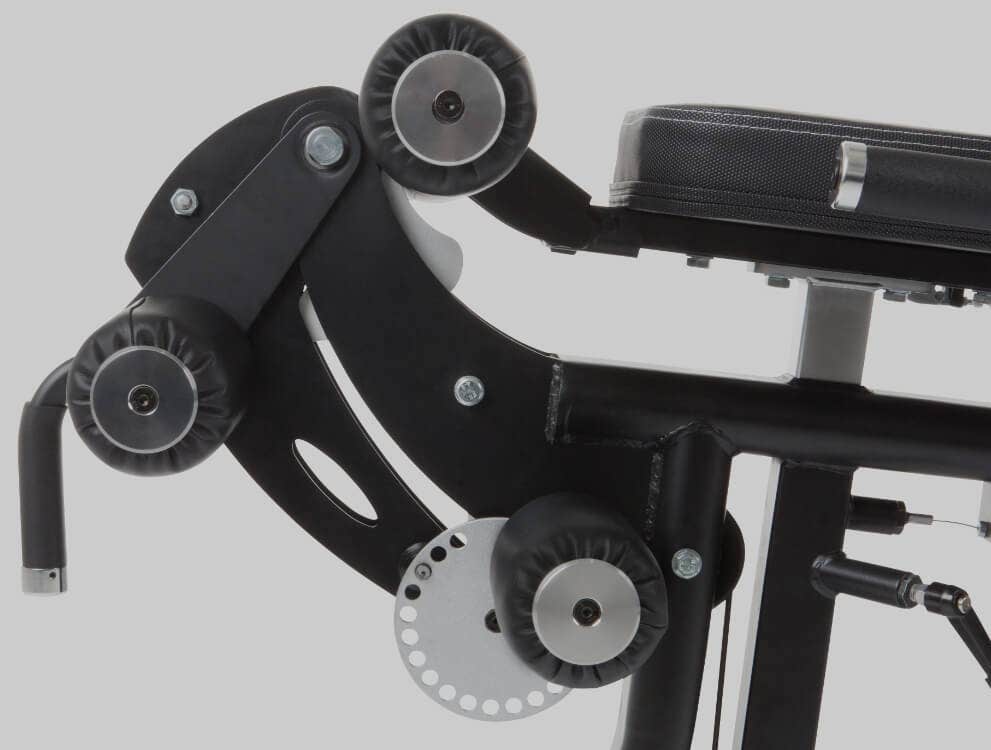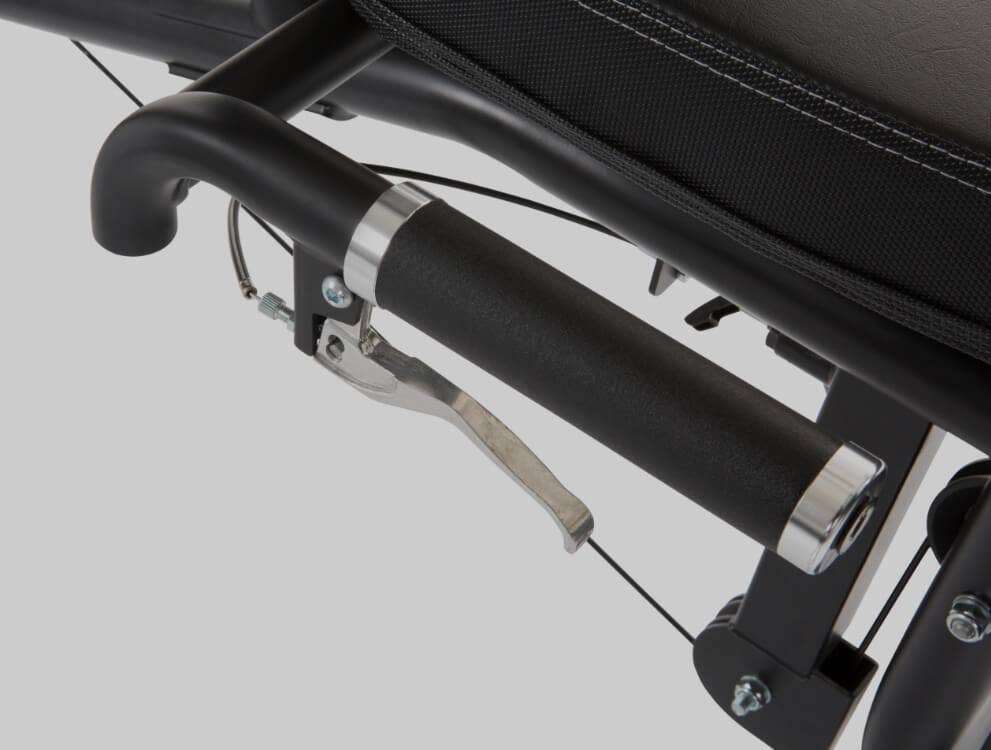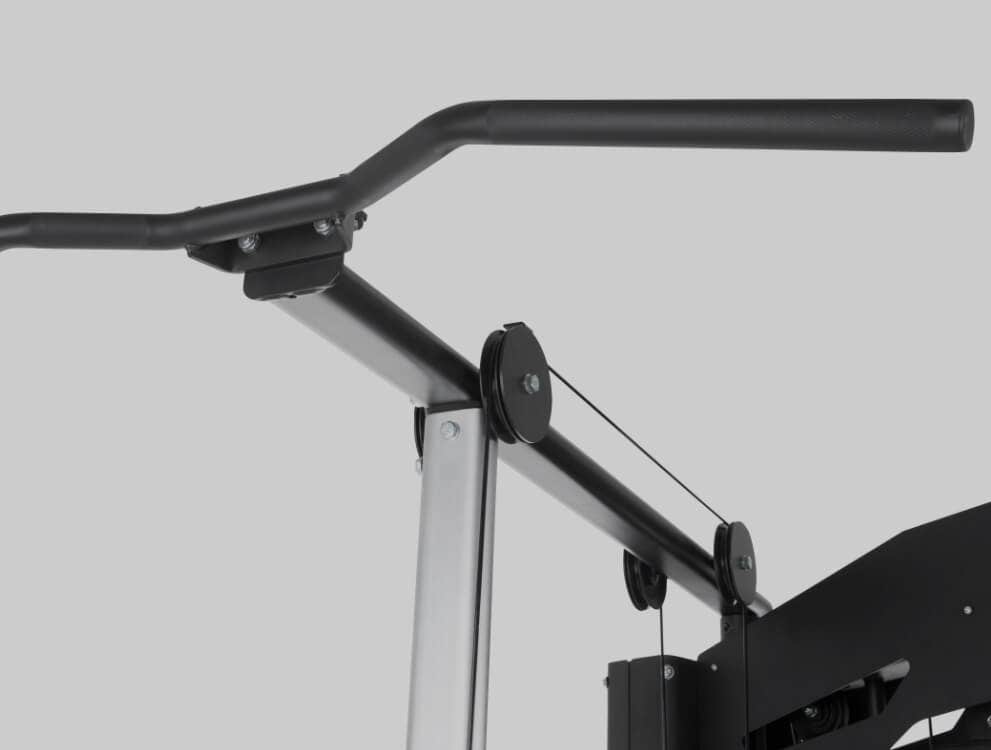 Time for some action
This multi-gym knows no compromise. Each component is designed for durability and resilience. This multi-gym combines function and elegance in compact dimensions and offers every fitness aficionado a wide range of sophisticated workout options. There are multiple exercise options available for every muscle in your body that are provided via the various modules of this highly versatile multi-gym. Stagnation was yesterday – the Autark 7.0 ushers in a whole new era for you and your body.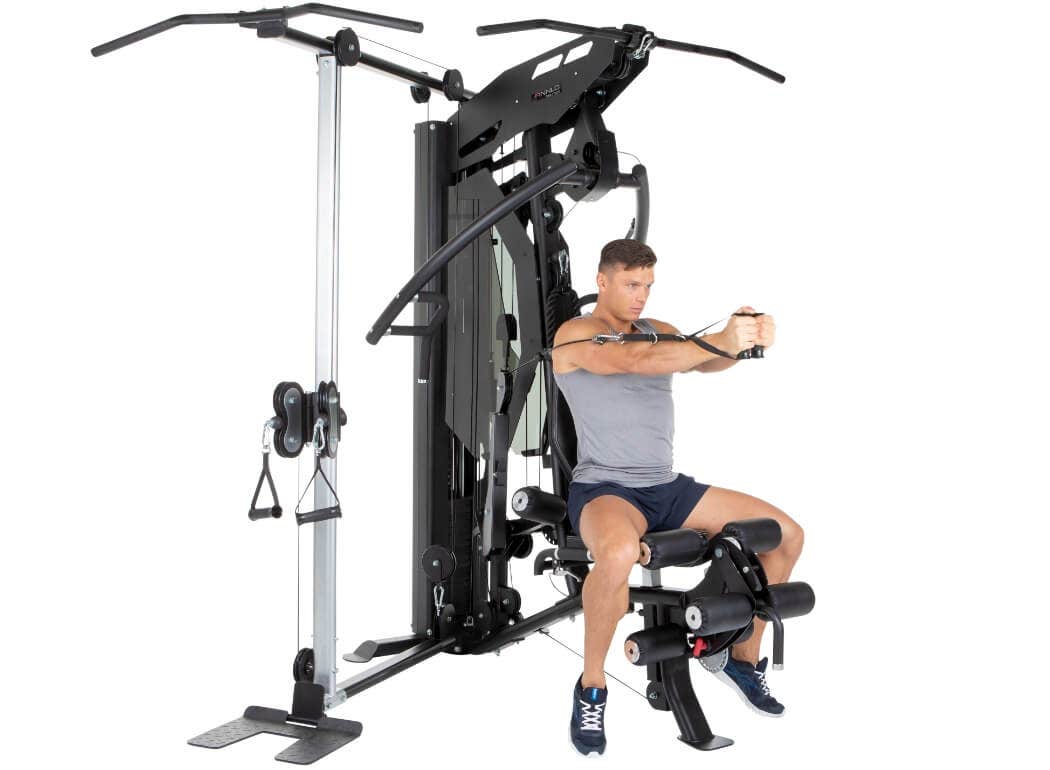 Maximum power
It is time to unleash your full potential! And the Autark 7.0 multi-gym can handle what you dish out. It is designed for professional weight training and will be your reliable training partner every kilogram of the way. Discover the many push and pull options and get those muscles burning! This home gym will adapt to any training program you can think of. There are 16 weight plates of 5 kg each on the robust weight block, which can be set to the required resistance quickly and precisely. The comfort seat and backrest can be adjusted to your personal needs in mere seconds. The same applies for the high-performance, smooth-running cable pulleys on the pulley tower, which can easily be set to the right height. You can look forward to a fully individualised full-body training when you decide to treat yourself to the pinnacle of 120 years of HAMMER experience.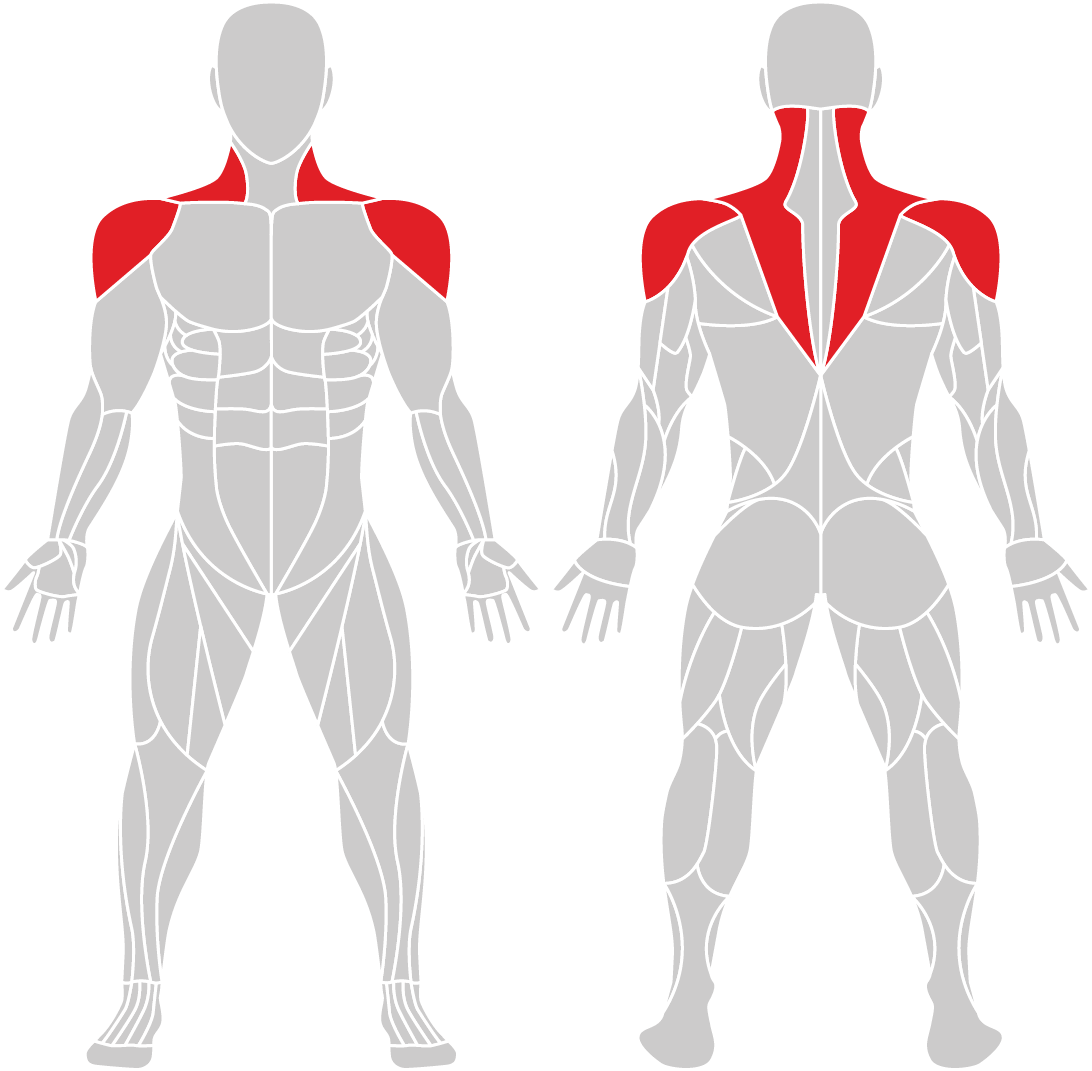 Stabilising the head and neck
Chronic headaches, tense neck muscles or even a slipped disk in the neck area: regular training for your upper support muscle groups and neck muscles will prevent unnecessary pain and is an important basic building block for general physical health. And the beauty of it all: exercises for the neck area can be easily incorporated in your shoulder training.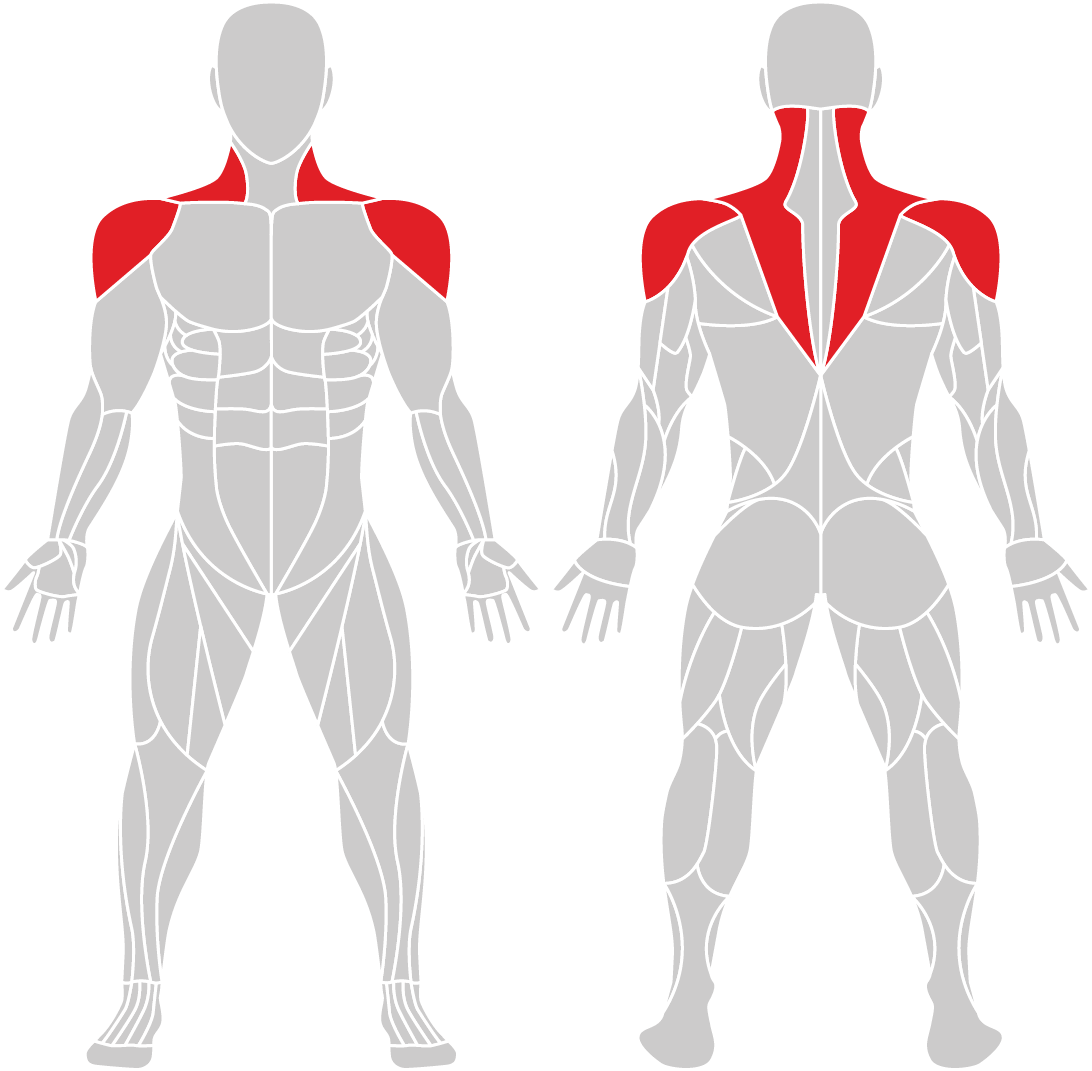 Powerful shoulders
Use the super versatile bench press module of the tower to strengthen your shoulders and upper back muscles. Alternate between various grip positions (horizontal and vertical) and use the lateral pull cables or the cable pulley tower for exercises like lateral lifts or shoulder lifts to build lasting muscle mass.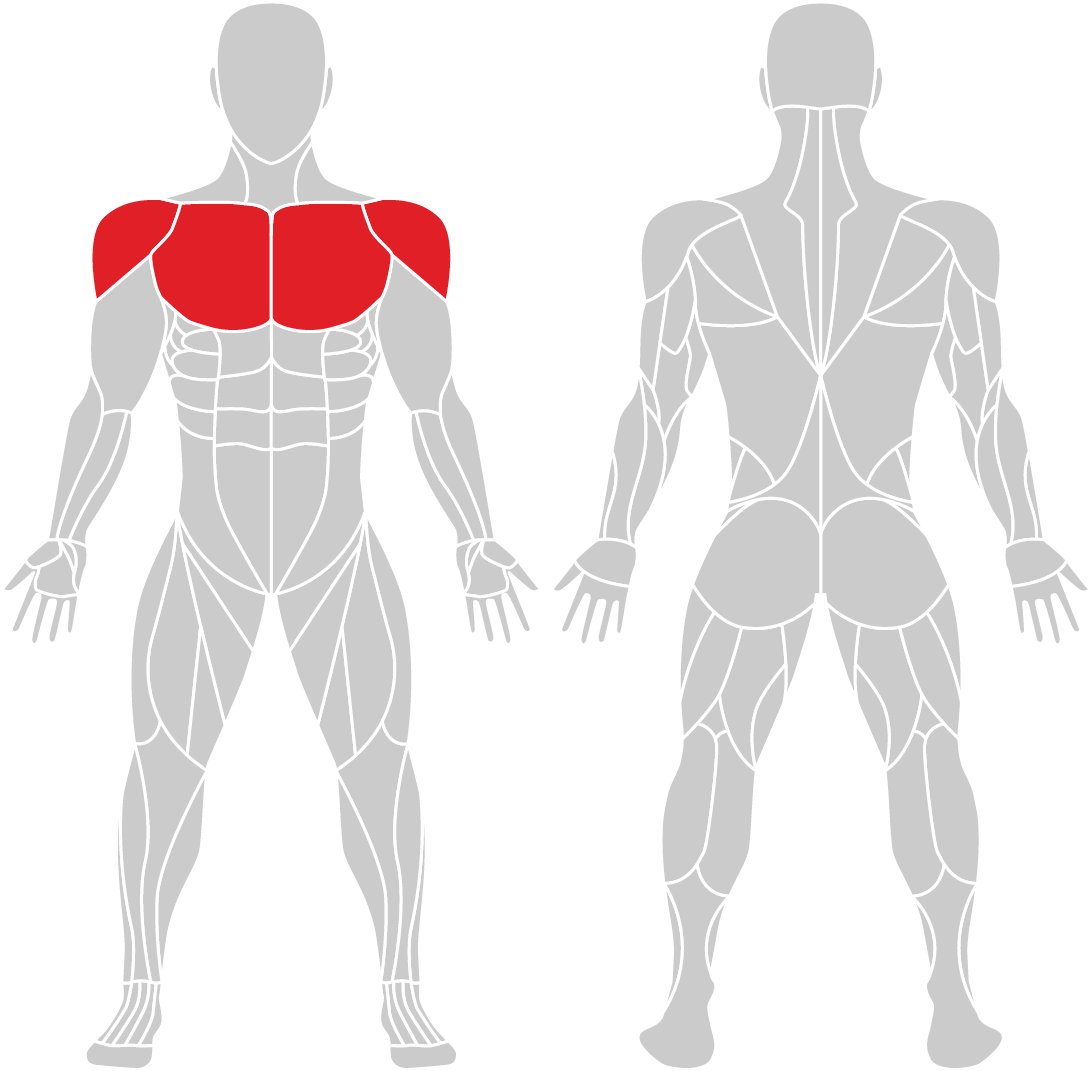 Get those pecs moving
The lateral butterfly cable pulleys are perfect for raising your chest muscle training to a whole new level. By varying the height of the pulleys, you can address individual areas of your chest muscles and stimulate the muscle more intensely. By the way: the same butterfly pulleys can also be used for free bench pressing. And you also have the powerful bench press module of the multi-gym, so you can give your pecs the attention they deserve. For these exercises, you can also choose vertical or horizontal grip positions.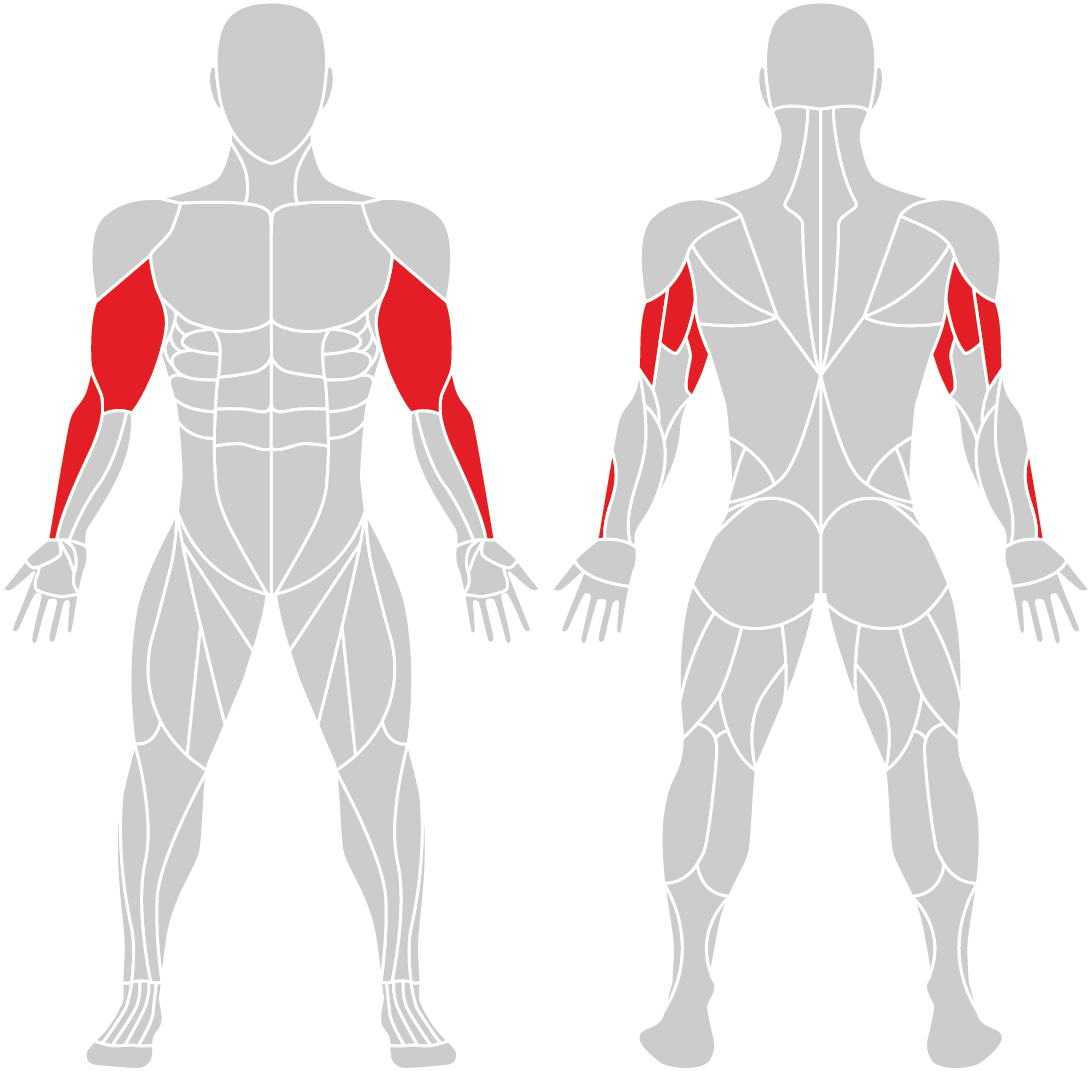 Arm muscles others can only dream about
Get your biceps in tip-top shape. that's what the lateral pull cables and a variety of training angles are for. Get more definition into your triceps by doing lat pulls while standing up or using the V-cable while sitting down. The cable pulley tower also offers plenty of options for building triceps and biceps muscle mass.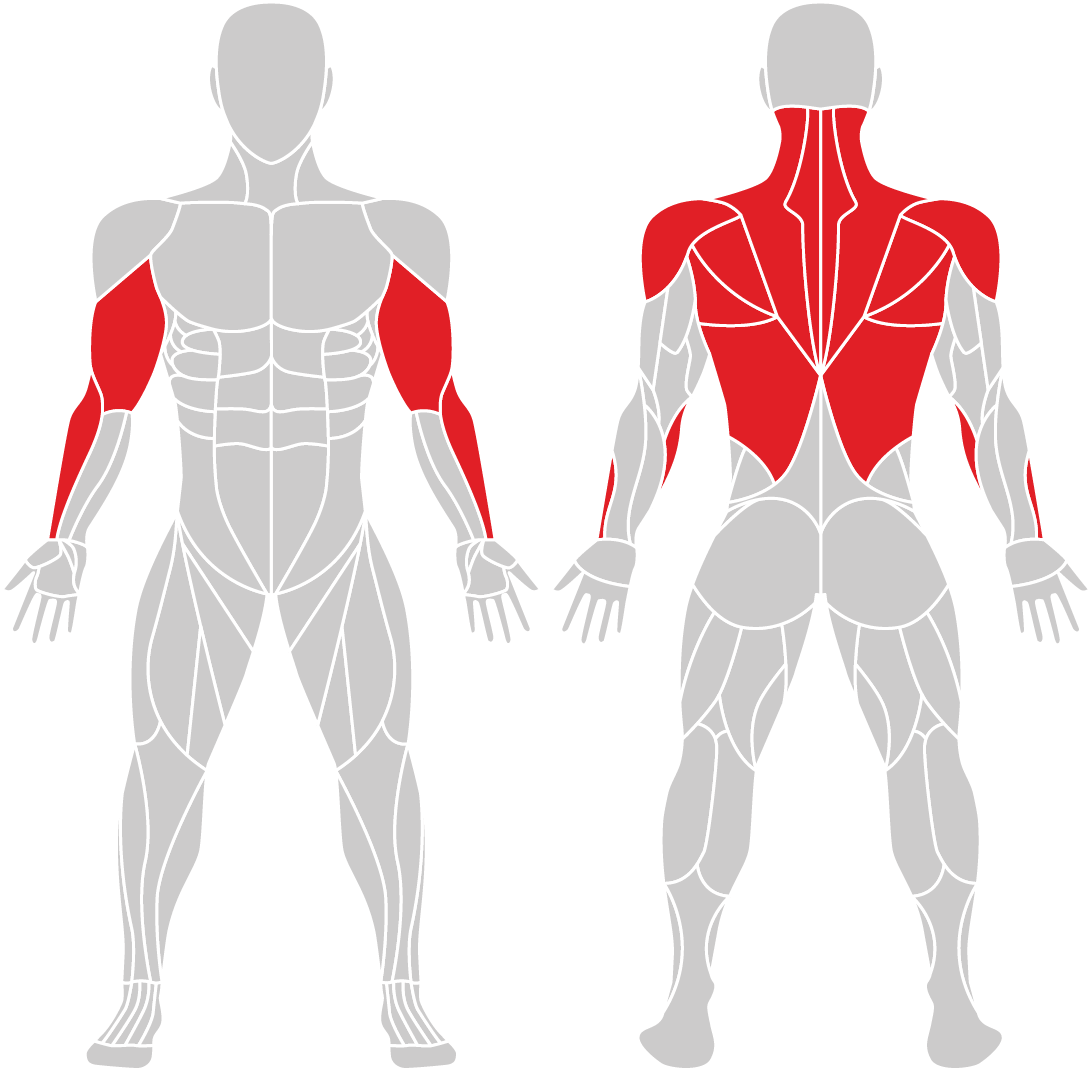 For a strong and healthy back
Various lat pull exercises will help you build strength in your back healthily and effectively and achieve that elusive V-shape. The pull-up bar on the side of the pulley tower offers even more great options for focusing on your back muscles, while bringing more variety to your workout. No other exercise is quite as effective for the big back muscle than the classic pull-up – so let's get cracking!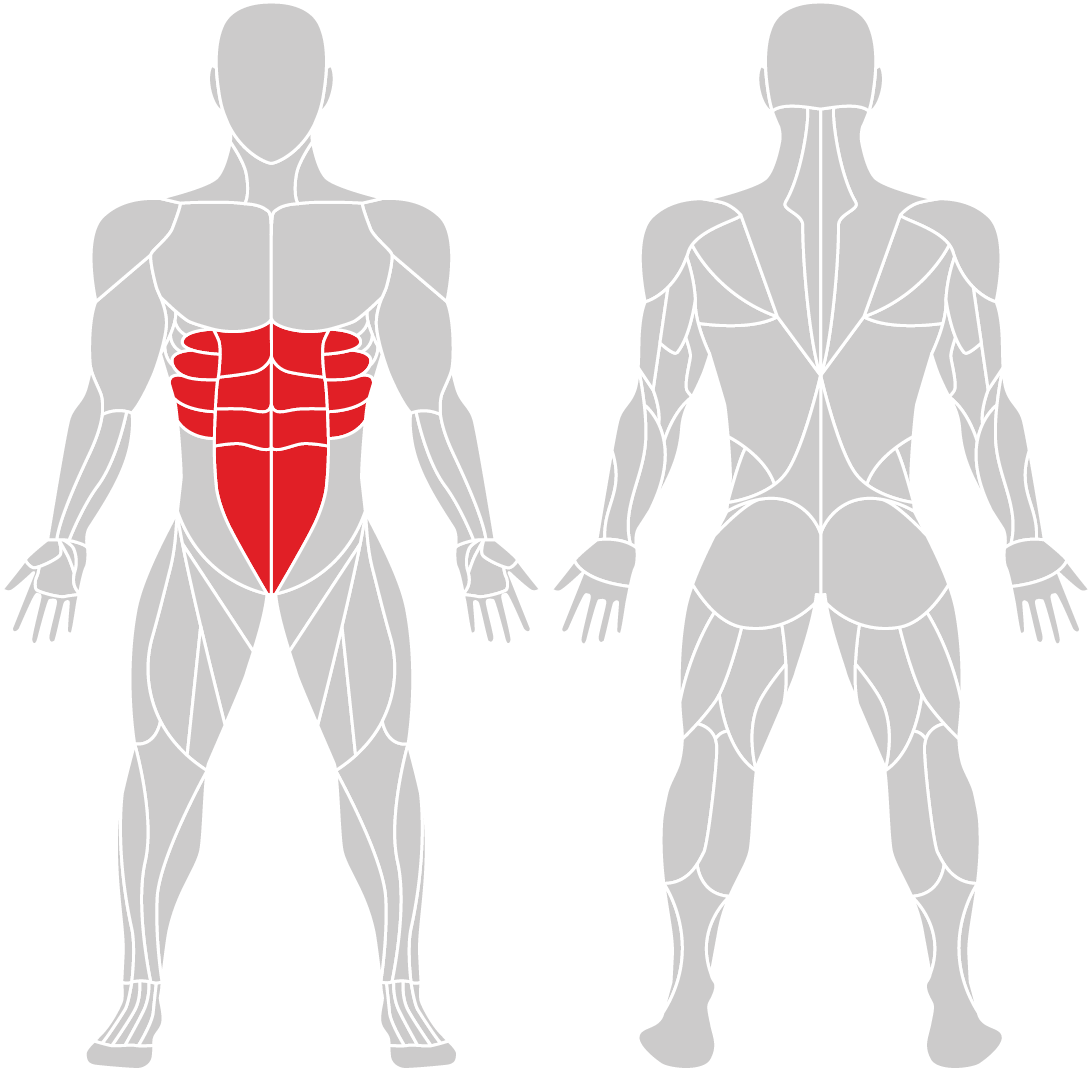 Say hello to your new six-pack!
Goodbye fat, hello six-pack: use the V-cable over your shoulders for intermittent ab exercises to steel those muscles. You can address individual parts of your abdominal muscles by pulling straight outward or at an angle. Leg raises on the pull-up bar will also work wonders.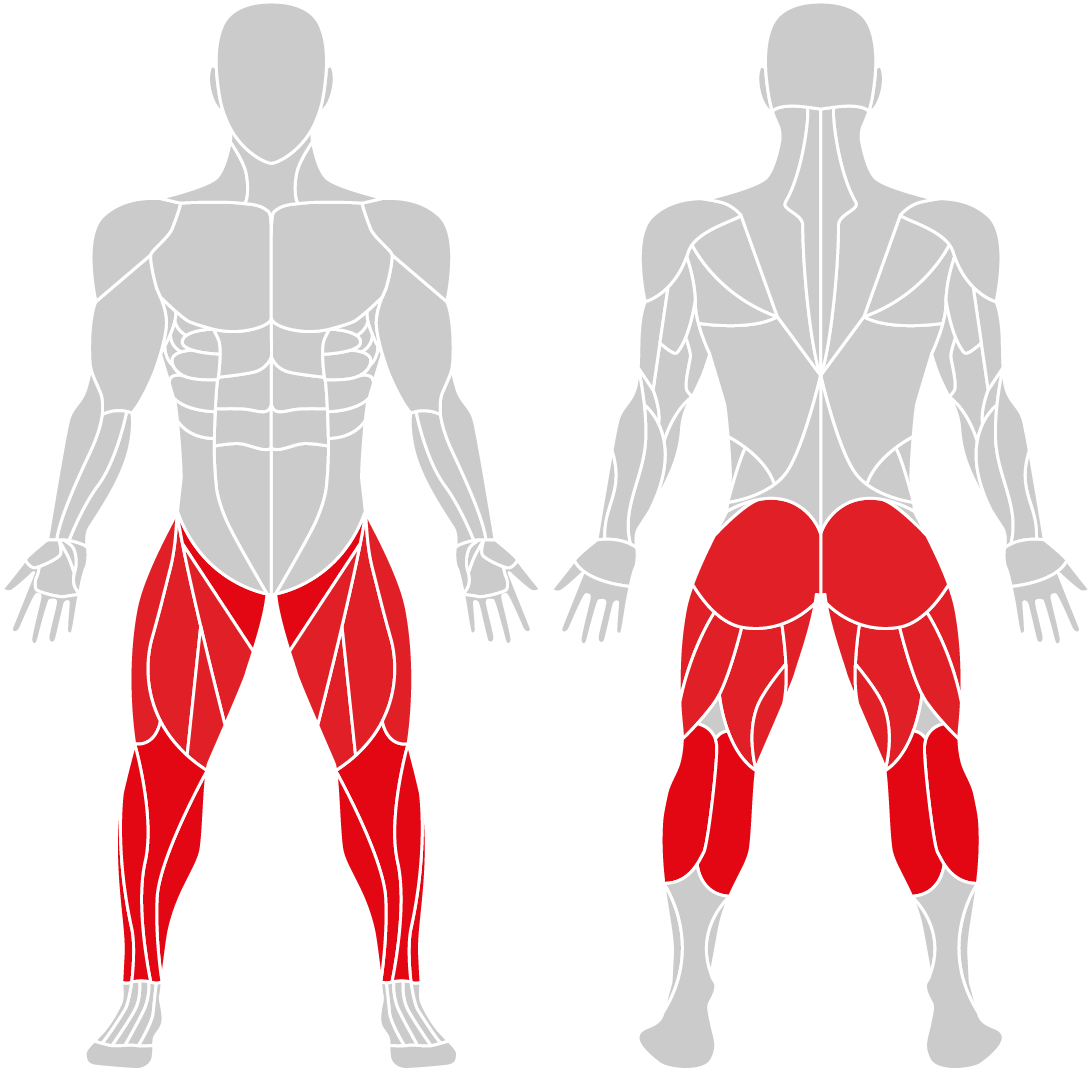 Defined leg muscles and glutes
The adjustable leg raise and reversed leg raise module will get your thighs perfectly in shape. Use the super comfortable padded round bar to quickly increase the resistance. The cable pulley tower in conjunction with the supplied leg loop offers plenty of abduction and adduction exercise options to strengthen your legs.
Fits like a glove
The comfortable and ergonomic seat has variable height settings. The back rest can be adjusted in terms of tilt and depth. The multi-gym is a great fit for weight training junkies with a body height up to 200 cm.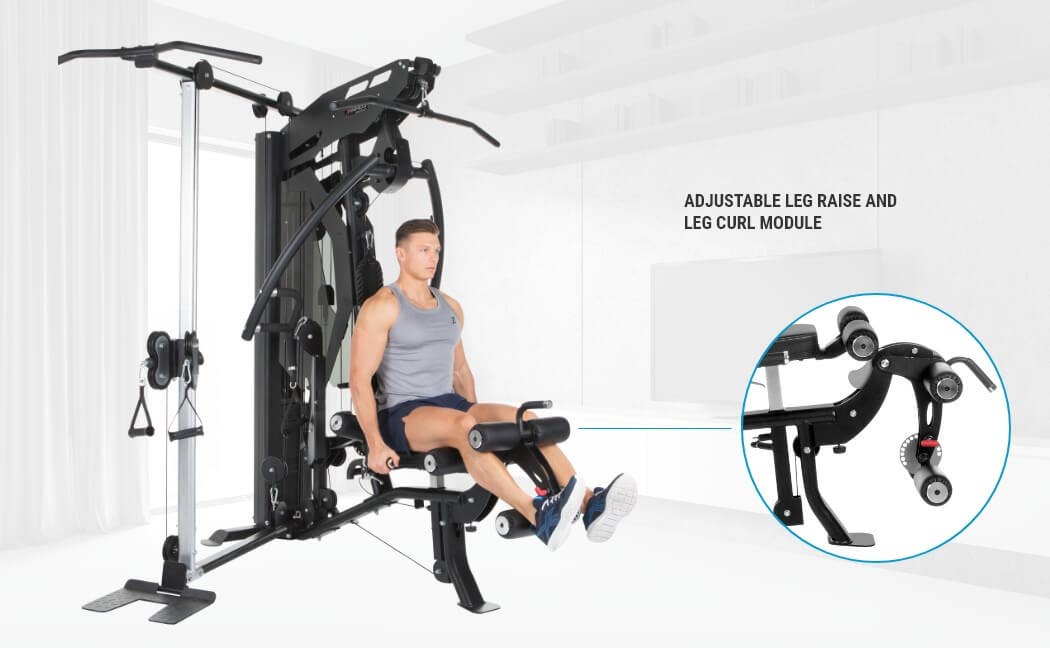 Unique leg curler module
The thigh pads are conveniently adjustable for various leg lengths and exercise types. The leg curl is just as quick to use when changing between leg raise and reversed leg raise exercises.
Powerful design
The Autark 7.0 multi-gym comes with a classy, all black design and an excellent finish. It will look great in any room and will remain securely in place, no matter how hard you work out. The robust construction of the home gym consists of highly stress-resistant premium steel and has a load capacity of 150 kg. This means higher weight classes can train with this multi-gym worry-free to get those muscles burning and the fat melting away.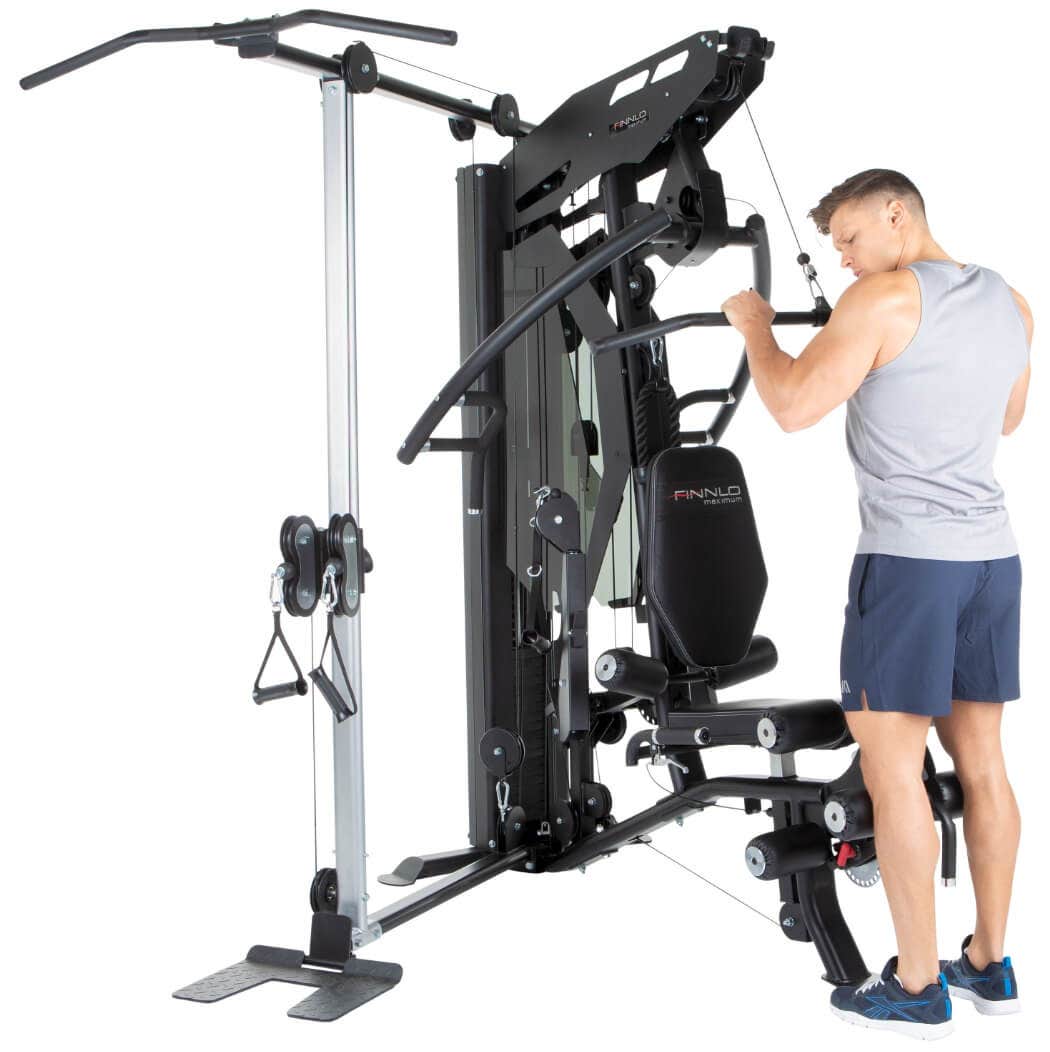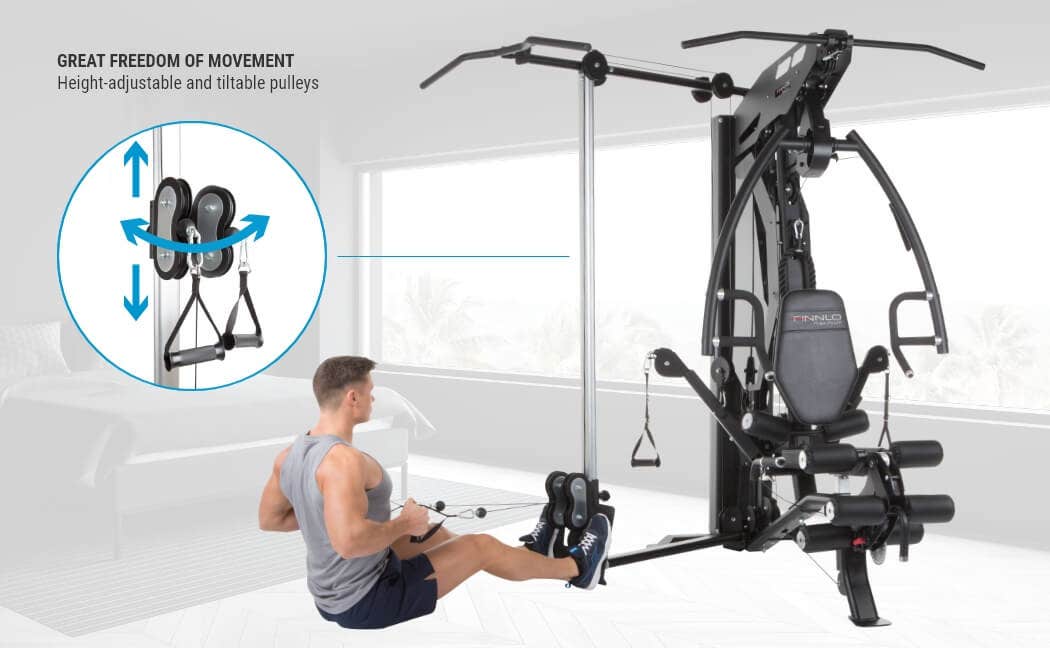 The cable pulley tower with endless options
The lateral cable pulley tower offers a whole range of additional training possibilities. You should always include a variety of pulley exercises in your workout to improve training results and don't shy away from the pull-up bar for some strength-building, functional exercises either! The two premium quality cable pulleys on the tower can be height-adjusted with a simple turn of a knob. These are just some of the workouts you can do on the cable pulley tower: biceps and triceps exercises, adduction and abduction with the leg loop around the ankle, pull-ups and leg raises on the pull-up bar, lateral torso tilts, butterfly exercises, rowing while standing or sitting and many more.
Supple movements
The ball bearings inside the cable pulleys create quiet and friction-free movements. An excellent support system and perfect stability will give you the confidence and safety you need for your workout.
Pull-up module for that V-shaped back
The pull-up module on the pulley tower of the Autark will get your back broader very quickly. Start with an underhand grip tightly around the pull-up bar to make the movement sequence easier. The wider apart you place your hands, the harder the exercise. The changeover to a normal grip will need even more strength for the movement sequence.
Adjustable pulleys
The height-adjustable cable pulleys of the tower allow you to do your exercises at various heights and angles. This thoroughly works out the muscles. The many different types of stimulation promote muscle growth and strengthen on all levels of the muscle fibre.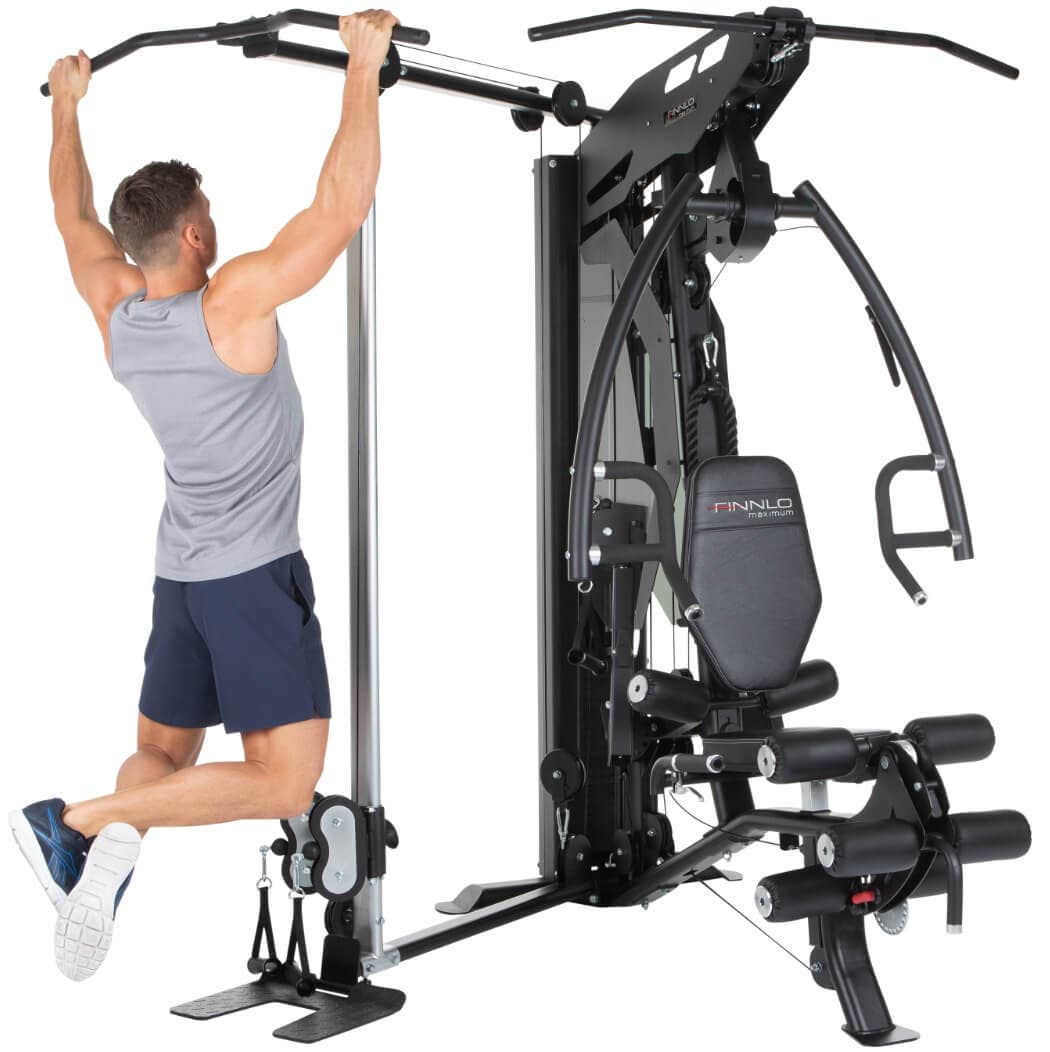 Fitness just like at the gym
This elegant power machine is the right choice for ambitious fitness beginners, as well as for professional weight athletes. Motivation is kept high with virtually endless exercise variations. Each muscle group is effectively worked out and muscle mass is built robustly and continuously. The fitness studio for your own four walls will free you of costly gym fees and unnecessary trips. From now on, you can work on your body whenever you want and the way you want – regardless of the weather or gym opening hours.
The premium home gym Autark 7.0 will allow you to achieve the following fitness goals and more:
Health-oriented or professional, competitive weight training
Weight loss and body toning
Building muscle mass in your torso, powerful arms, a broad, V-shaped back and an attractive six-pack
Toned legs and thighs
High-intensity back workouts culminating in weight training-oriented muscle building
Dimensions and weight
Build up size (L x W x H)
200 x 170 x 217 cm (Space requirements 200 x 210 x 230 cm )
Additional weights inclusive
No
Upgradable with additional weights
4 x 5 kg
Shipping
Delivery time
4-8 working days
Scope of delivery
Autark 7.0
Delivery Information
Delivery to curbside (Please leave your phone number when ordering, so we can arrange a suitable delivery date for you)
Private use
on the main frame
10 years
Semi-professional use
on the main frame
5 years
*Semi-professional use: For use in hotels, sports clubs, etc. - not in fitness studios
Summary of all possible strength exercises with the Autark 7.0
You can find out how to do the exercises correctly and exactly which muscle groups are trained by clicking on the respective exercise.
Clients ask, our fitness experts answer
Do you need more information about the product? Ask your question here. Our fitness experts will answer quickly and easily.
Our recommendation for you